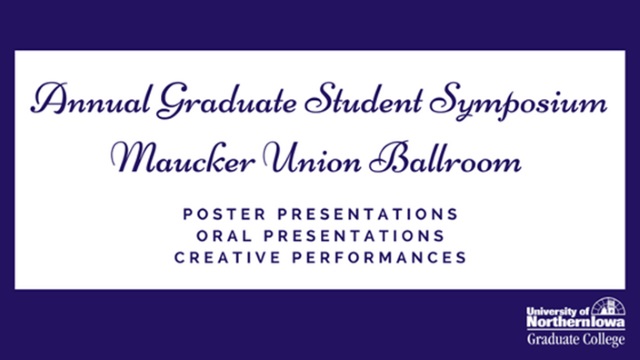 Welcome to the 11th Annual Graduate Student Symposium at the University of Northern Iowa! The Symposium gives us the opportunity to celebrate works of scholarship and creativity from the graduate student community. Students representing a wide variety of disciplines present their works in three venues through the Poster Presentations, Oral Presentations and Creative Performances. UNI's graduate students are educated and mentored by nationally and internationally known faculty who are recognized for outstanding teaching, distinguished scholarship and dedicated service to their professions. UNI graduate education prepares students academically and professionally for career advancement. -- Patrick Pease, Interim Dean Graduate College

The Annual Graduate Student Symposium is coordinated by the Graduate College.
To go to the Graduate Student Symposium Scholarship Awards collection page, Click here
Full Symposium Program (pdf) The official program distributed by the Graduate College in pdf format.
Schedule
2018
Tuesday, April 3rd
11:00 AM

A Low-Cost Arduino-Based Home Security System

Qi Lu, University of Northern Iowa


Open Access Poster Presentation

11:00 AM - 1:30 PM

11:00 AM

Accuracy in Perception of Police Activities

Chelsea Washburn, University of Northern Iowa


Poster Presentation (Electronic Copy Not Available)

11:00 AM - 1:30 PM

11:00 AM

Activity Recognition Based on Thermopile Imaging Array Sensor

Quingshan Liang, University of Northern Iowa


Poster Presentation (Electronic Copy Not Available)

11:00 AM - 1:30 PM

11:00 AM

Barriers to Seeking Psychological Help Among Registered Sex Offenders

Sage Comstock, University of Northern Iowa


Poster Presentation (Electronic Copy Not Available)

11:00 AM - 1:30 PM

11:00 AM

Conservatives and Liberals Differing Perceptions of Items on the Moral Foundations Questionnaire: Maybe We're Flot So Different After All

Nathan Lewey, University of Northern Iowa
Alivia Zubrod, University of Northern Iowa


Poster Presentation (UNI Access Only)

11:00 AM - 1:30 PM

11:00 AM

Differences in Therapist Self-Doubt: Perceptions of Conduct Disorder

Zachary Meehan, University of Northern Iowa


Poster Presentation (Electronic Copy Not Available)

11:00 AM - 1:30 PM

11:00 AM

Effects of Perceived Discrimination on Health Outcomes

Emma Welch, University of Northern Iowa


Poster Presentation (Electronic Copy Not Available)

11:00 AM - 1:30 PM

11:00 AM

Elephants of the Pink City, Jaipur, India: A Study of the Captive Elephant Welfare and Management Practice in Ex-Situ Environmental Conditions

Ayan Sasmal, University of Northern Iowa


Open Access Poster Presentation

11:00 AM - 1:30 PM

11:00 AM

Gender Stereotypes in Hispanics and Caucasians

Christina Fortuna, University of Northern Iowa


Poster Presentation (Electronic Copy Not Available)

11:00 AM - 1:30 PM

11:00 AM

Impact of Tibetan Household Livelihood Capital on Tourism Participation Level: A Case of Jiaju Tibetan Village in Garze

Yiyi Zhang, University of Northern Iowa


Open Access Poster Presentation

11:00 AM - 1:30 PM

11:00 AM

Intimate Partner Violence Stigma: The Intersection of Race and Socioeconomic Status

Antoinette Fleming, University of Northern Iowa


Open Access Poster Presentation

11:00 AM - 1:30 PM

11:00 AM

Multi- Resolution Satellite Imagery Analysis of Coastal Tundra Vegetation Disturbances Caused by All-Terrain Vehicles (ATVs): A Case Study in Teriberka, Russia

Md Atiqur Rahman, University of Northern Iowa


Poster Presentation (Electronic Copy Not Available)

11:00 AM - 1:30 PM

11:00 AM

Personal Experiences of Students at the Intersection of Race, Gender, and (Dis)ability

Shehreen Iqtadar, University of Northern Iowa


Poster Presentation (Electronic Copy Not Available)

2018 Award

11:00 AM - 1:30 PM

11:00 AM

Piecemeal Change in Higher Education: An Example of Curriculum Re-conceptualization

Dessy Stoycheva, University of Northern Iowa


Open Access Poster Presentation

11:00 AM - 1:30 PM

11:00 AM

Romantic Partner Body Valuation and Commitment as Predictors of Self-Esteem

Melanie Reyes, University of Northern Iowa


Poster Presentation (Electronic Copy Not Available)

11:00 AM - 1:30 PM

11:00 AM

Social Media Terms for ESL Students

Michael Curtis, University of Northern Iowa


Poster Presentation (Electronic Copy Not Available)

11:00 AM - 1:30 PM

11:00 AM

The Association Between ADHD Symptoms and Non-Suicidal Self-Injury in the Transition to College: A Systematic Review

Anna Garner, University of Northern Iowa


Poster Presentation (Electronic Copy Not Available)

11:00 AM - 1:30 PM

11:00 AM

The Effectiveness of A "Patient Discharge Information" Booklet in Patient Education Program in Saudi Arabia

Amani Al Rebeh, University of Northern Iowa


Open Access Poster Presentation

2016 Award

11:00 AM - 1:30 PM

11:00 AM

The Effects of Adverse Childhood Experiences on Post-Traumatic Stress Disorder in Post 9/11 Combat Veterans

Rebecca Brown, University of Northern Iowa


Open Access Poster Presentation

11:00 AM - 1:30 PM

11:00 AM

The Five-Factor Model for Leisure Management: Pedagogies for Assessing Personality Differences in Positive Youth Development Programs

Andrea Anderson, University of Northern Iowa


Poster Presentation (Electronic Copy Not Available)

11:00 AM - 1:30 PM

11:00 AM

The Moral Motivations of Negative Attitudes Toward Transgender People

Hailey Hatch, University of Northern Iowa


Poster Presentation (Electronic Copy Not Available)

2018 Award

11:00 AM - 1:30 PM

11:00 AM

The Patterns of Preceding Utterances of Communication Partner on Independent Communication Acts of Students Utilizing AAC

Jacee Schneider, University of Northern Iowa
Nicole Pothen, University of Northern Iowa


Poster Presentation (Electronic Copy Not Available)

2018 Award

11:00 AM - 1:30 PM

11:00 AM

The Protective Role of Sleep in the Associations Between Insecure Adult Attachment Styles and Emotion Regulation

Kristin Rooff, University of Northern Iowa


Poster Presentation (Electronic Copy Not Available)

2018 Award

11:00 AM - 1:30 PM

11:00 AM

Transgender People of Color: The New Shade of Bigotry

Emma Welch, University of Northern Iowa
Hailey Hatch, University of Northern Iowa
Christina Fortuna, University of Northern Iowa


Poster Presentation (Electronic Copy Not Available)

11:00 AM - 1:30 PM

11:00 AM

Using GIS for Determining Optimal Refugee Camp Placement in Western Thailand

Christopher Pierce, University of Northern Iowa


Open Access Poster Presentation

11:00 AM - 1:30 PM

11:00 AM

Wind Farm Layout Optimization Using Genetic Algorithm and Multiple Traveling Sales Man Algorithm

Hamid Tahery, University of Northern Iowa


Poster Presentation (UNI Access Only)

11:00 AM - 1:30 PM

12:00 PM

Belief and Doubt: Excerpts of a Memoir

Moriah Henkelman, University of Northern Iowa


Creative Performance (Electronic Copy Not Available)

2018 Award

12:00 PM - 2:30 PM

12:00 PM

Randi Smith, University of Northern Iowa


Creative Performance (Electronic Copy Not Available)

12:00 PM - 2:30 PM

12:00 PM

Recitativo Und Scherzo-Caprice, Op. 6 by Fritz Kreisler

Monica Chen, University of Northern Iowa


Creative Performance (Electronic Copy Not Available)

12:00 PM - 2:30 PM

12:00 PM

Adrianne Lloyd, University of Northern Iowa


Creative Performance (Electronic Copy Not Available)

12:00 PM - 2:30 PM

12:00 PM

Arielle Irvine, University of Northern Iowa


Creative Performance (Electronic Copy Not Available)

12:00 PM - 2:30 PM

12:00 PM

James Keane, University of Northern Iowa


Creative Performance (Electronic Copy Not Available)

2018 Award

12:00 PM - 2:30 PM

12:00 PM

Vivaldi's Hidden Works: The Chamber Cantata, Qua/ Per Ignoto Calle RV 677

Leia Lensing, University of Northern Iowa


Creative Performance (Electronic Copy Not Available)

2018 Award

12:00 PM - 2:30 PM

12:00 PM

When the Doctor Came to Dubuque: The Story of the Henry D. Cogswell Statue

Elizabeth Dickhut, University of Northern Iowa


Creative Performance (Electronic Copy Not Available)

12:00 PM - 2:30 PM

1:00 PM

A Three-Year Old Bilingual Child's Use of the English Article System: Negative First Language Transfer or Typical Development?

Rana Moustafa, University of Northern Iowa


Oral Presentation (Electronic Copy Not Available)

2018 Award

1:00 PM - 4:00 PM

1:00 PM

Civic Learning Outcomes: Measuring Students' Experiences in Higher Education

Stanley Ebede, University of Northern Iowa


Open Access Oral Presentation

1:00 PM - 4:00 PM

1:00 PM

Dan Gable: Center of the Wrestling World

Alex Pauls, University of Northern Iowa


Oral Presentation (Electronic Copy Not Available)

1:00 PM - 4:00 PM

1:00 PM

Experience Immigrants Have With Housing in Waterloo

Darlene Fitkin, University of Northern Iowa


Open Access Oral Presentation

2018 Award

1:00 PM - 4:00 PM

1:00 PM

"Half-Breeds," Squatters, and Land Speculators: The Struggle Over the Half- Breed Tract in Southeast Iowa

Matthew Hill, University of Northern Iowa


Oral Presentation (Electronic Copy Not Available)

1:00 PM - 4:00 PM

1:00 PM

Iowa Rural School Memoirs and Identity

Brian Jesteadt, University of Northern Iowa


Oral Presentation (Electronic Copy Not Available)

1:00 PM - 4:00 PM

1:00 PM

Is This a Rape? Activism, Consent, and the Ethics of Looking in Emma Sulkowicz's Ceci N'est Pas Un Viol

Abigail Shew, University of Northern Iowa


Oral Presentation (Electronic Copy Not Available)

2018 Award

1:00 PM - 4:00 PM

1:00 PM

Language Policy in Sudanese-Arabic Speaking Families

Marwa Ibrahim, University of Northern Iowa


Open Access Oral Presentation

2018 Award

1:00 PM - 4:00 PM

1:00 PM

Nitrogen Resorption in Cattail Species: Are There Differences?

Clarissa Ruiz, University of Northern Iowa


Oral Presentation (Electronic Copy Not Available)

1:00 PM - 4:00 PM

1:00 PM

Overcoming Obstacles: UNI Business Women Challenge the Status Quo

Emily Snodgrass, University of Northern Iowa


Oral Presentation (Electronic Copy Not Available)

1:00 PM - 4:00 PM

1:00 PM

Perceived Causes and Methods of Examination Malpractice in the Malawian Education System: A Case Study of Secondary Schools in South East Education Division (SEED)

Fiddelis B. Makaula, University of Northern Iowa


Open Access Oral Presentation

2018 Award

1:00 PM - 4:00 PM

1:00 PM

Queer Citizenship: Lesbian and National Identities in Radclyffe Hall's "The Well of Loneliness" and Compton Mackenzie's "Extraordinary Women"

Hannah Lane, University of Northern Iowa


Oral Presentation (Electronic Copy Not Available)

1:00 PM - 4:00 PM

1:00 PM

Risk Perception in Automotive Environments

Dane Atkins, University of Northern Iowa


Oral Presentation (Electronic Copy Not Available)

1:00 PM - 4:00 PM

1:00 PM

Self-Immolation as a Rhetorical Social Protest with Special Reference to Self­ Immolation of Tibet

Tsering Kyi, University of Northern Iowa


Oral Presentation (Electronic Copy Not Available)

1:00 PM - 4:00 PM

1:00 PM

Spirituality, Cultural Heritage and Leisure

Carole Hansbrough, University of Northern Iowa
Belinda Creighton-Smith, University of Northern Iowa
Marie Elomba Adebiyi, University of Northern Iowa


Oral Presentation (Electronic Copy Not Available)

1:00 PM - 4:00 PM

1:00 PM

"Tangled Twilight." The Twilight of American Idealism and Progress, and Reflections on the American Soul in Nature During the Vietnam War, 1965-1973

Alexander Newkirk, University of Northern Iowa


Oral Presentation (Electronic Copy Not Available)

1:00 PM - 4:00 PM

1:00 PM

The Changes of Preservice Teachers' Self-Efficacy in Teaching Students With Special Needs Through a Collaborative Course

Pujaningsih Pujaningsih, University of Northern Iowa


Oral Presentation (Electronic Copy Not Available)

1:00 PM - 4:00 PM

1:00 PM

The Foundation of American Flute Playing Told Through the Innovations of William Kincaid, Grandfather of the American Flute School

Kim Abeyta, University of Northern Iowa


Open Access Oral Presentation

2018 Award

1:00 PM - 4:30 PM

1:00 PM

Transforming Professional Learning Using Self-Study in an EFL Context

Mahjabeen Hussain, University of Northern Iowa


Open Access Oral Presentation

2018 Award

1:00 PM - 4:00 PM

1:00 PM

Vargas Llosa and the Creation of a New Rhetorical Orientation

Ismael Quinones, University of Northern Iowa


Oral Presentation (Electronic Copy Not Available)

1:00 PM - 4:00 PM

1:00 PM

Women in STEM: When Does Role Congruence Affect Major Choice and Retention?

Alba Karuni, University of Northern Iowa


Oral Presentation (Electronic Copy Not Available)

1:00 PM - 4:00 PM

1:00 PM

Youth Academy Cafe: International Youth Voices

Marie Elomba Adebiyi, University of Northern Iowa
Brian Hadley, University of Northern Iowa
Stanley Ebede, University of Northern Iowa


Oral Presentation (Electronic Copy Not Available)

1:00 PM - 4:00 PM