- 2022 Call for Submissions -
Submissions are being accepted in both English and Portuguese languages.
Pedagogy and Theatre of the Oppressed Journal
is a peer-reviewed, annual publication produced by Pedagogy and Theatre of the Oppressed, Inc. Journal submitters are encouraged to showcase their work in popular education and liberatory theatre as well as work shared at Pedagogy & Theatre of the Oppressed conferences and regional events. Please visit
http://ptoweb.org/
for more information.
See the Aims and Scope for more information about the journal.
Current Volume: Volume 6 (2021)
Introductory Document
Articles
Reports
Reviews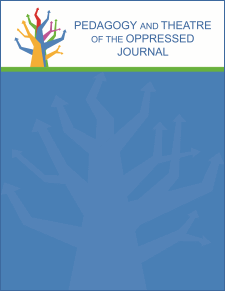 Editor
Center for Applied Theatre; Milwaukee, Wisconsin

Mark Weinberg