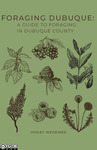 Description
This book come into fruition only a few weeks into my 11 month Green Iowa AmeriCorps service term with Dubuque County Conservation. All Green Iowa AmeriCorps's members are required to complete a Personal Development Project over the course of their service term. This project must relate to either the mission of GIA or of the host site. Dubuque County Conservation's vision is "to engage the community's stewardship and enjoyment of its natural resources."
When brainstorming possible project ideas, I knew I wanted to choose something I knew little about, but wanted to learn more about. I had been wanting to get into foraging, and I decided this was the perfect opportunity. I have spent my 11 months at Dubuque County learning about foraging.
This book is intended to get you started on your foraging journey, but by no means should be your only resource. I cannot cover every edible species in depth, but have chosen a small selection to go into detail about. All my sources and some recommended ones are in the back of this book. Consult them if curious about any other species in this book. I hope this book gets you some basic information that gets you excited to dive into the world of foraging. Enjoy!
Disclaimer: DO NOT eat anything you are not 100% sure of what it is. This book is intended to be a guide to start your foraging journey, but should not be your only resource. Proper identification is your responsibility. Use multiple resources to confirm what you are harvesting is safe to eat. Every body is different, some plants can cause reactions even when perfectly safe to consume. Consult a doctor before consuming, especially if you are pregnant, breast-feeding, are taking prescription drugs, have an existing medical condition or allergy.
Publisher
UNI ScholarWorks, Rod Library, University of Northern Iowa
Disciplines
Plant Sciences
Recommended Citation
Wedewer, Hailey, "Foraging Dubuque: A Guide to Foraging in Dubuque County" (2023). Open Access Books. 1.
https://scholarworks.uni.edu/open_books/1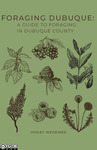 Included in
COinS