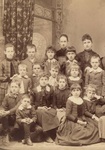 Title
Malcolm Price Laboratory School Photographs
Description
Laboratory schools are unique and began as a concept in experimental education around the turn of the twentieth century. John Dewey, a philosopher, psychologist and educational reformer, started the first laboratory school in conjunction with the University of Chicago. Lab schools can include various grade levels, but all have a connection to a college or university.

UNI's lab school experience also began in the late 1800s with the model school idea. Central Hall housed the classroom originally. By 1914, Sabin Hall was the location for the lab school. In 1950, construction began on the building we now know as Malcolm Price Laboratory School, named after President Malcolm Price who was instrumental in planning the building. The building was completed in 1957, and has been fulfilling its roles of educating elementary through high school students, and providing a real-world experience for university education students. The photos in this collection show the extraordinary range of these roles.
Click here, to go to the Malcolm Price Laboratory School Photographs collection.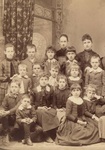 COinS