This journal is currently inactive and is no longer accepting submissions as of 2019. Previously published articles, Volume 1, Issue 1 (Fall 2005) through Volume 13 (2017-2018) are available through UNI ScholarWorks.

UNIversitas provides a forum for showcasing University of Northern Iowa graduate faculty and graduate student achievements in research, scholarship, and creative activity. It intends to generate interdisciplinary campus-wide communication and collaboration among faculty and between faculty and students, to further the university's contact with the world-wide scholarly and artistic community, and to serve as a resource for the people of Iowa and beyond.
See the Aims and Scope for a complete coverage of the journal.
Current Issue: Volume 13, Number 1 (2018) Forum Theme: (Re)presenting (Im)migration
Issue date: 2017-2018
Editorial
Forum Theme 1
Essays, Studies, and Works
Reviews and Responses
Tangents
Contributors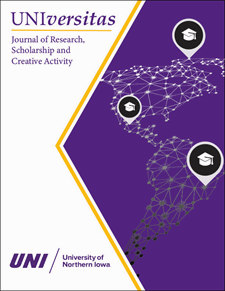 Editorial Board
Editor

Jesse Swan, University of Northern Iowa

Assistant Editor

Grant Burke, University of Northern Iowa

Assistant Editor

Jenni LeGarde, University of Northern Iowa

Additional Members of the Editorial Board

Patrick Pease, Interim Dean of the Graduate College, University of Northern Iowa
Joel Haack, College of Humanities, Arts, and Sciences, University of Northern Iowa
Timothy Kidd, College of Humanities, Arts, and Sciences, University of Northern Iowa
Ken McCormick, College of Business Administration, University of Northern Iowa
Michael Waggoner, College of Education, University of Northern Iowa