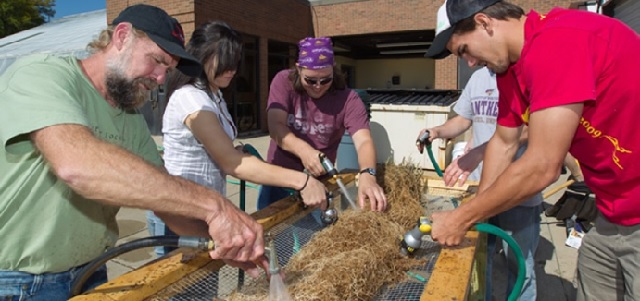 Work/Availability
Open Access Undergraduate Student Work
Type of Work
Poster Presentation
Keywords
Pollinators--Habitat--Iowa; Natural areas--Iowa; Prairie plants--Iowa;
Abstract
The Conservation Reserve Program (CRP) is a land conservation program administered by the US Department of Agriculture Farm Service Agency (FSA) to improve water quality, prevent soil erosion, and create wildlife habitat.
• The CP-42 program provides cost share and an annual rental payment to farmers in order to establish native prairie species for pollinator habitat.
County NRCS technical staff make recommendations for seed mix to match the dominant soil moisture class in a parcel (e.g. dry, mesic, wet) with the appropriate plant species.
• There has been little to no research prior to the Biology SURP initiative to monitor species establishment as a function of soils.
• A poor match between seed mix and soil type could increase costs and harm environmental benefits.
• We sampled the soil in three CRP with nearly identical mesic seed mixes, plus a high quality remnant sand prairie in Black Hawk County, to compare the designed seed mix with the actual soil conditions
Department
Department of Biology
Department
Tallgrass Prairie Center
First Advisor
Chad Heinzel
Second Advisor
Laura Jackson
Repository
UNI ScholarWorks, Rod Library, University of Northern Iowa
Copyright
©2018 Jennifer Pauley, Chad Heinzel, and Laura Jackson
File Format
application/pdf
Recommended Citation
Pauley, Jennifer, "Soil Characteristics Affecting Weed Invasion on Conservation Reserve Program Pollinator Habitats" (2018). Undergraduate Student Work. 14.
https://scholarworks.uni.edu/ugswork/14