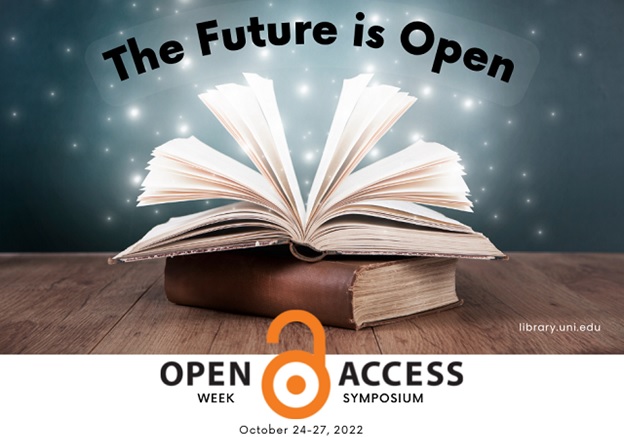 University of Northern Iowa celebrated Open Access Week this year by hosting a campus Open Access Week Symposium during International Open Access Week in mid October. Open Access (OA) advances science and improves society as a whole by having free access to information and unrestricted use of electronic resources for everyone. Rod Library held a series of sessions during October 24-27 about open access resources, publishing, copyright, and other topics in scholarly communication! 2022 Symposium PRINTABLE PROGRAM [Flier pdf]
Monday, October 24, 2022, Publishing Issues Day, 2:00 to 4:00 p.m., Library Room 378
Tuesday, October 25, 2022, Copyright Day , 2:00 to 3:45 p.m., Library Room 378
Wednesday, October 26, 2022, Textbook Equity Day 1:00 to 3:45 p.m., Library Room 378
Thursday, October 27, 2022, Celebration of Open Access Resources Day, 2:00 to 5:00 p.m., Library Room 378 and reception in the nearby solarium overlooking Maucker Union
.
Click the "Google Calendar" icon on events to add them to your calendar.
Schedule
2022
Monday, October 24th
2:00 PM

Panel 1 Publishing Issues Day: Three Short Topics

Chris Neuhaus, University of Northern Iowa
Andrey Petrov, University of Northern Iowa
Lassi Heininen, University of Lapland, Finland
Janet Brennan Croft, University of Northern Iowa


Library Room 378

2:00 PM - 2:45 PM

3:00 PM

Panel 2 Publishing Issues Day: Chat with Academic Journal Editors

Janet Brennan Croft, University of Northern Iowa
J. D. Schraffenberger, University of Northern Iowa
Kyle Rudick, University of Northern Iowa
Robert Steed, Hawkeye Community College


Library Room 378

3:00 PM - 4:00 PM

Tuesday, October 25th
2:00 PM

Presentation 1 Copyright Day: Creative Commons (CC) Licensing: What, How, and Why

Ellen Neuhaus, University of Northern Iowa


Library Room 378

2:00 PM - 2:25 PM

2:30 PM

Presentation 2 Copyright Day: Copyright 101 for Educators and Students

Janet Brennan Croft, University of Northern Iowa


Library Room 378

2:30 PM - 3:10 PM

3:15 PM

Presentation 3 Copyright Day: Academic Ethics/Plagiarism

Helen Harton, University of Northern Iowa


Library Room 378

3:15 PM - 3:45 PM

Wednesday, October 26th
1:00 PM

Presentation 1 Textbook Equity Day: Visualizing Open Pedagogy

Jonathan Chenoweth, University of Northern Iowa


Library Room 378

1:00 PM - 1:45 PM

2:00 PM

Panel 1 Textbook Equity Day: Using Free/Affordable Textbooks

Anne Marie Gruber, University of Northern Iowa
Nathan Taylor, University of Northern Iowa
Eva Chen, University of Northern Iowa


Library Room 378

2:00 PM - 2:45 PM

3:00 PM

Panel 2 Textbook Equity Day: Creating Free, Openly-Licensed Textbooks

Anne Marie Gruber, University of Northern Iowa
Nikki Harken, University of Northern Iowa
Randall Harlow, University of Northern Iowa


Library Room 378

3:00 PM - 3:45 PM

Thursday, October 27th
2:00 PM

Panel 1 Celebration of Open Access Resources Day: UNI's Local Gems Meet the World

Ellen Neuhaus, University of Northern Iowa
Janet Croft, University of Northern Iowa
Matt Lawson, University of Northern Iowa


Library Room 378

2:00 PM - 2:45 PM

3:00 PM

Panel 2 Celebration of Open Access Resources Day: ScholarWorks, UNI's Institutional Repository: 7 Year Anniversary

Ellen Neuhaus, University of Northern Iowa
Marcene Seavey, University of Northern Iowa
Kathryn Wohlpart, University of Northern Iowa
Carl L. Thurman, University of Northern Iowa


Library Room 378

3:00 PM - 3:45 PM

3:45 PM

Reception Celebration of Open Access Resources

Location: Library 3rd floor solarium overlooking Maucker Union (outside of ScholarSpace, rm. 301) -- The reception is open to all!

3:45 PM - 5:00 PM