Welcome to the Journal of STEM Arts, Crafts and Constructions! The goal of our new journal is to support arts integration into STEM subjects (Science, Technology, Engineering, and Mathematics) through publication of editorials, research articles, and practical articles.
See the Aims and Scope for a complete coverage of the journal.
The Journal is seeking new submissions. Please see the author guidelines and submit your manuscript through this website for peer review.
Current Issue: Volume 4, Issue 1 (2019)
Editorial
Practical Articles
Research Articles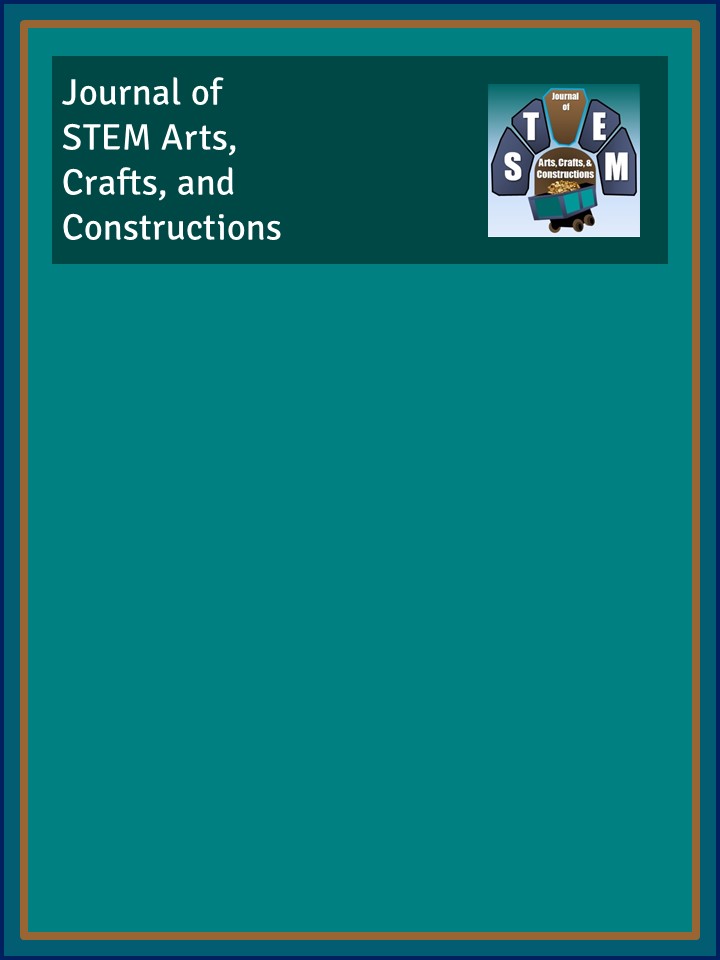 Editor-in-Chief
Dr. Audrey C. Rule, University of Northern Iowa, Cedar Falls, Iowa
Copy Editor
Dr. Mahjabeen Hussain, University of Northern Iowa, Cedar Falls, Iowa
Associate Editors
Dr. Dana Atwood-Blaine, University of Northern Iowa, Cedar Falls, Iowa
Dr. Scott Greenhalgh, University of Northern Iowa, Cedar Falls, Iowa
Dr. Douglas Huffman , University of Kansas, Lawrence, Kansas
Cheri R. Jones, Chattahoochee Elementary School, Gwinnett County, Georgia
Dr. Mason Kuhn, University of Northern Iowa, Cedar Falls, Iowa
Dr. Anita Welch, Ball State University, Muncie, Indiana
Dr. Ksenia Zhbanova, Mississippi State University, Meridian, Mississippi