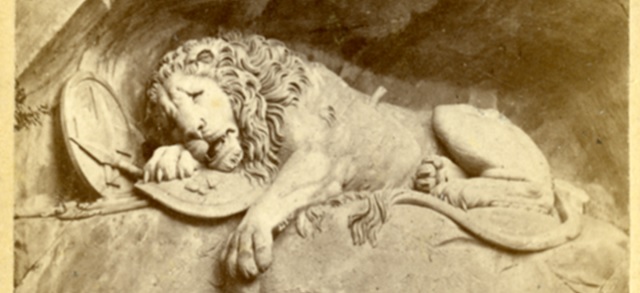 Architect/Sculptor of Monument
Andreas Schlüter (Sculptor)
Preview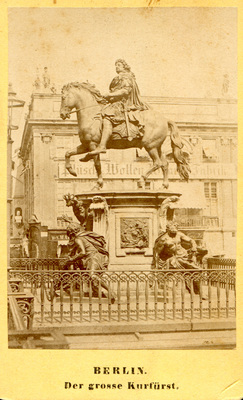 Keywords
Friedrich Wilhelm I, Great Elector, Friedrich Wilhelm I the Great Elector, Friedrich Wilhelm I Elector of Brandenburg, Germany, Equestrian Statue, Friedrich Wilhelm, Prussia, King of Prussia, Friedrich Wilhelm of Prussia, 1713-1740, Europe, History, Western, King, Berlin, Charlottenburg Palace, Sculpture, Baroque, Andreas Schlüter
Physical Dimensions
Height: 101 mm Width: 62 mm
Name of Monument
Friedrich Wilhelm I, the Great Elector Statue
Date of Creation of Monument
1708
Date of Completion or Dedication of Monument
1708
Location within City
Charlottenburg Palace
State/Province of Monument
Berlin
Country of Monument
Germany
Description
A carte-de-visite photograph of the Equestrian Statue of Friedrich Wilhelm the Great Elector set in front of the Charlottenburg Palace in Berlin Germany. The statue was created by Andreas Schlüter in 1708 and depicts the Great Elector on horseback with slaves in chains around the base of the statue. The relief on the base of the statue is dedicated to King Friedrich I (1657-1713), the son of the Great Elector, who had become the Prussian king by the time the statue he commissioned had been finished.
School of Art/Architecture
Baroque Sculpture
Copyright
Original physical carte-de-viste is in the public domain. Digital copy scanned by Rod Library, ©2022 Rod Library, University of Northern Iowa.
Creative Commons License


This work is licensed under a Creative Commons Attribution-NonCommercial 4.0 International License