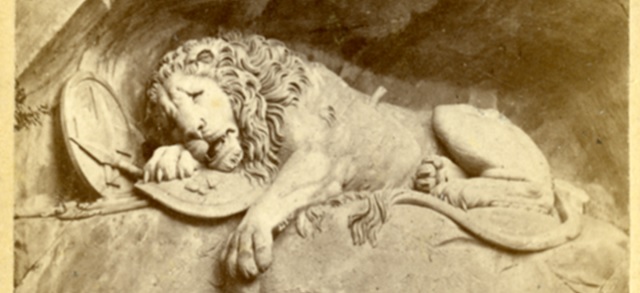 Architect/Sculptor of Monument
Jean-Antoine Alavoine and Joseph-Luis Duc
Outline of Content
Antique Photo Card Image ( carte-de-visite) - Located under download button
Re-edited image - Located under Additional Files
Background Research - Located under Additional Files
Bibliography of Sources - Located under Additional Files
Preview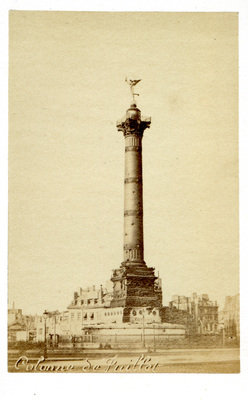 Keywords
Paris, France, Revolution of 1830, cartes-de-visite (card photographs), July Column:1840, Jean-Antoine Alavoine, Joseph-Luis Duc, Palace de la Bastille, neoclassical, Revolution of 1848, Louis Phillipe
Physical Dimensions
64 mm x 105 mm
Date of Publication
Unkown
Name of Monument
July Column (Colonne de Juillet)
Date of Creation of Monument
Summer 7-1831
Date of Completion or Dedication of Monument
Summer 7-1840
Location within City
Place de la Bastille
State/Province of Monument
Île-de-France
Country of Monument
France
Description
A carte-de-visite of the July Column (or Colonne de Juillet), a large Corinthian-style column that was built on the site of the Bastille prison to commemorate the 1830 Revolution. While a monument was originally planned to be built in 1793 to commemorate the Fall of the Bastille and the beginning of the 1789 French Revolution, nothing was built until King Louis-Phillipe commissioned this column which was finished in 1840. Designed by Jean Antoine Alavoine and Joseph Luis Duc, the column stands at 169 feet and is topped with an angel called the Spirit of Freedom. The vaults underneath contain the remains of rioters killed in both the Revolution of 1830, which brought King Louis-Phillipe to power, and the 1848 Revolution that overthrew him.
School of Art/Architecture
Neoclassical
Digital Date
Spring 3-1-2022
Copyright
Original physical carte-de-visite is in the public domain. Digital copy scanned by Rod Library, ©2022 Rod Library, University of Northern Iowa.
Rights Advisory
Original print carte-de-visite card is in the public domain; U.S. and International copyright laws protect this digital object. Commercial use of this digital object is not permitted without prior permission of the copyright holder.
Creative Commons License


This work is licensed under a Creative Commons Attribution-NonCommercial 4.0 International License