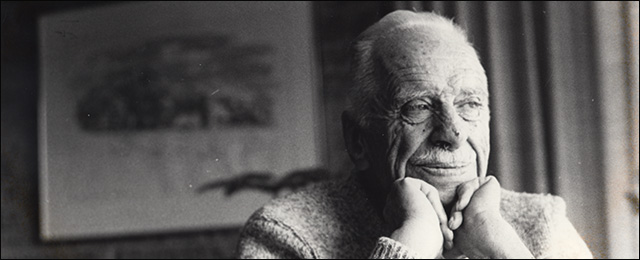 James Schell Hearst taught at the University of Northern Iowa from 1941 to 1975, retiring as a Distinguished Professor of English, and was well-known throughout the nation as a poet, philosopher, and educator. His thirteen volumes of poetry and two autobiographical works won him praise and honors on both the state and national level. During the course of his life he published over 600 poems, with his work appearing in such publications as The Nation, Outdoor America, the Saturday Evening Post, The Midland, Poet & Critic, The Independent, the Wascana Review, and the Kansas Quarterly, among many others.

Material of the type found in this collection can also be found in print format in Special Collections & University Archives. For more information, see the finding aid for this specific collection.

This collection is a subset of the larger James Hearst Collection.
Printing is not supported at the primary Gallery Thumbnail page. Please first navigate to a specific Image before printing.
April 2019


April 2019


April 2019


April 2019


April 2019


April 2019


April 2019


April 2019


April 2019


April 2019


April 2019


April 2019


April 2019


April 2019


April 2019


April 2019


April 2019


April 2019


April 2019


April 2019


April 2019


April 2019


April 2019


April 2019


April 2019


April 2019


April 2019


April 2019


April 2019


April 2019


April 2019


April 2019


April 2019


April 2019


April 2019


April 2019


April 2019


April 2019


April 2019


April 2019


April 2019


April 2019


April 2019


April 2019


April 2019