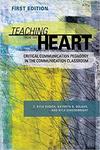 Title
Teaching From the Heart
Subtitle
Critical Communication Pedagogy in the Communication Classroom
Description
Teaching From the Heart: Critical Communication Pedagogy in the Communication Classroom uses a social-justice framework to introduce beginning instructors to classroom pedagogy.
Readers will learn the history, vocabulary, and skill set needed to recognize teaching and learning as sites for humanization, transformation, and growth. Topics include mentoring as an act of love, assessment, power, facilitating critical dialogue about oppression and privilege, and developing social justice classroom activities for the communication classroom.
Both critical and pragmatic, Teaching From the Heart is ideal for courses in teaching communication and a valuable tool for any instructor who wishes to work with students to explore issues regarding power, privilege, and oppression while learning meaningful course content.
Keywords
Communication and education. Communication -- Study and teaching.
Publisher
Cognella Academic Publishing
Department
Department of Communication Studies
Object Description
xxii, 219 pages ; 23 cm.
Recommended Citation
Rudick, Kyle, "Teaching From the Heart" (2017). Faculty Book Gallery. 489.
https://scholarworks.uni.edu/facbook/489