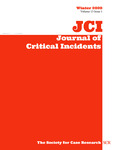 Keywords
Management--Periodicals; Organizational Studies--Periodicals;
Description
Inside this Issue:
--- Contracts No. 1: Judge for yourself : A critical incident regarding contract formation, conditions, performance, and breach
--- Facebook Fail: When the Social Media Posting of an Employee Harms the Organization's Image
--- Ford Motor Company: Should we buy a train station?
--- Credit Union says no to customer's hijab: Public safety or discrimination?
--- Tina's Troubles
--- "Suit accuses CEO of taking $7M"
--- Pezno wines: The legal and ethical dimensions of in-kind employee compensation
--- Ethics in the grounding of the Boeing 737 MAX
--- To what degree can employers "snoop" through your electronic devices?
--- Will Northwest's baggage be overweight?
--- Lease or buy
--- Achieving organizational-wide support: The effective use of a project charter in an enterprise project
--- Undocumented workers, United States taxes, and the responsibility of tax preparers
--- No chicken at KFC: A logistics debacle?
--- Managing nuances in performance reporting of a complex program
--- Sweet dreams: Creekside Maple Syrup
--- Struggling to hire a mechanics manager
--- How Should McGraw-Hill Respond to Innovative Competitors to Maintain Market Dominance In the Digital Age?
--- Pirate Joe's vs. Trader Joe's: A gray market fight
--- Ring security: Peace of mind vs. chilling nightmare
--- Zion Williamson: Could Nike's dream exposure become a nightmare?
Publication Date
Winter 2020
Publisher
Society for Case Research
Copyright
© Copyright 2020 by the Society for Case Research
File Format
application/pdf
Recommended Citation
"Journal of Critical Incidents, v13, Winter 2020" (2020). Journal of Critical Incidents. 1.
https://scholarworks.uni.edu/critical_incidents/1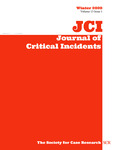 COinS