Title
Preview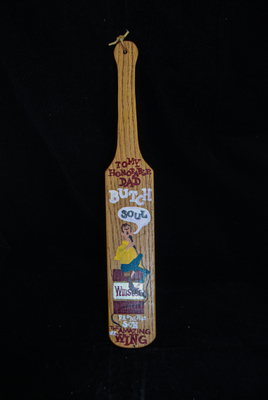 Description
Wooden paddle with the words, "To my honorable dad, Butch from his son, The Amazing Wing." These words are painted along with an image of a man sitting on a pile of books. He is holding a microphone and a speech bubble is pictured outside of his mouth with the word "Soul" coming out.
Year the Object was Created
Late 20th Century
Sorority/Fraternity Name
Sigma Alpha Epsilon
Copyright
©2021 Rod Library. University of Northern Iowa.
Recommended Citation
Rod Library. University of Northern Iowa., "Painted Butch Paddle" (2021). Sororities & Fraternities Photo Gallery. 30.
https://scholarworks.uni.edu/unigreek_images/30