Preview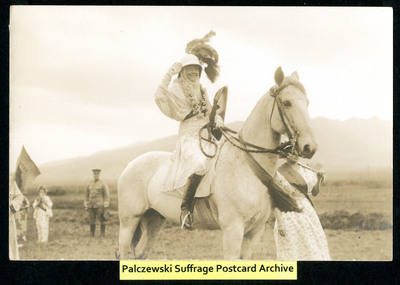 Rod Library Access Number
427
Description
From a typed description accompanying the print-format photo (author unknown):
[One of] 3 photos. All apparently taken at an outdoor fair or festival. One seems to copy famous Boissevain mounted image, woman on white horse with shield. Led by woman with Votes for Women sash. To left edge, banner seems to say "Votes", 2 gals in Japanese garb. The second is a march through encampment. Votes for Women sashes, other signs at rear. Lots of men around in military uniform. The third is a group photo with many signs. "Hoodoo AntiSuffragettes," "Woman is Always Right," "Discuss womans rights, Recuss her wrongs, Cuss the Men," "Man is an Inferior Animal," "Nobody works but Father." Fascinating group, showing at the very least the lengths to which anti-suffragists went in parodying the movement. Judging from the references in the photos, probably circa 1913, reflecting the great Washington parade.
Disciplines
Digital Humanities | Gender, Race, Sexuality, and Ethnicity in Communication | History | History of Gender | Speech and Rhetorical Studies | Women's History
Ordering Information
Ordering Information: Contact Catherine Palczewski at catherine.palczewski@uni.edu for permission requests and to order high resolution digital copies. Fees will be attached if the image is intended for commercial use.
Rights Advisory
U.S. and International copyright laws protect this digital object. Commercial use of this digital object not permitted without prior permission of copyright holder.
Creative Commons License


This work is licensed under a Creative Commons Attribution-NonCommercial 4.0 International License
Keywords
Women--Suffrage;
COinS