Preview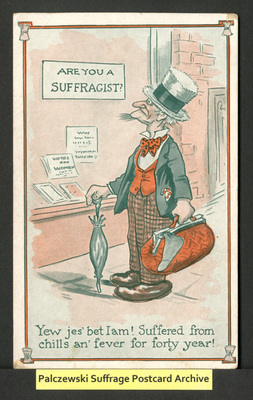 Rod Library Access Number
349a
Country of Publication
United States
Postmark City
Riga, Michigan
Destination City
Gibsonburg, Ohio
Description
Are You a Suffragist? Yew jes' bet I am! Suffered from chills an' fever for forty year!
Disciplines
Digital Humanities | Gender, Race, Sexuality, and Ethnicity in Communication | History | History of Gender | Speech and Rhetorical Studies | Women's History
Ordering Information
Ordering Information: Contact Catherine Palczewski at catherine.palczewski@uni.edu for permission requests and to order high resolution digital copies. Fees will be attached if the image is intended for commercial use.
Keywords
Women--Suffrage;
COinS