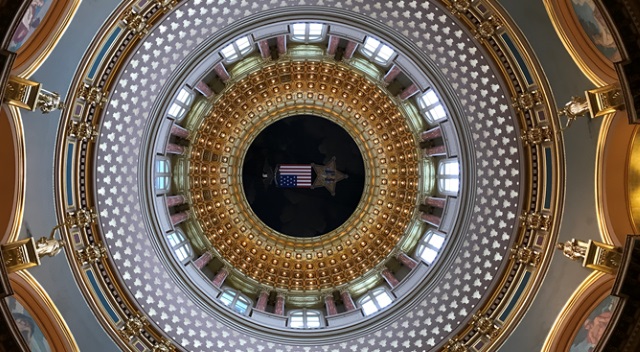 Research in the Capitol is a collaborative effort of the honors programs from the University of Northern Iowa, Iowa State University and the University of Iowa. In the spring of every year, the three Regents universities send 20 students to provide poster presentations of undergraduate research. The event celebrates how undergraduates learn by doing research in a variety of fields.

This event was hosted by the University Honors Program, but all UNI students were eligible to participate. The Research in the Capitol 2016 event was held March 29, 2016.
Full Program (pdf) The official program distributed at the 2016 event in pdf format. To view the collection of past Research in the Capitol Programs, click here.
Schedule
2016
Tuesday, March 29th
11:30 AM

Bridge Numbers: A Knotty Journey

Julie Kirkpatrick, University of Northern Iowa
Tracy Wulfekuhle, University of Northern Iowa


Poster Presentation (Electronic Copy Not Available)

11:30 AM - 1:30 PM

11:30 AM

Childhood Factors and Incarceration for African American Men: How Early Life Community Experience Influences Adult Outcomes

Abigail Cobb, University of Northern Iowa


Open Access Poster Presentation

11:30 AM - 1:30 PM

11:30 AM

Chinese Strategic Asset Seeking Activity in the United States

Justin Niday, University of Northern Iowa


Open Access Poster Presentation

11:30 AM - 1:30 PM

11:30 AM

College Students' Beliefs About Alcohol and Drinking at UNI Homecoming

Brooke Hollenberg, University of Northern Iowa


Poster Presentation (Electronic Copy Not Available)

11:30 AM - 1:30 PM

11:30 AM

Comparing Bee Abundance and Diversity in Candidate Biomass Crops

Ben Nettleton, University of Northern Iowa


Poster Presentation (Electronic Copy Not Available)

11:30 AM - 1:30 PM

11:30 AM

Determinants of NBA Average Annual Attendance by Team

Kevin McGee, University of Northern Iowa


Open Access Poster Presentation

11:30 AM - 1:30 PM

11:30 AM

Determinants of the GPA's of College Students

Mitchell Beckman, University of Northern Iowa


Poster Presentation (Electronic Copy Not Available)

11:30 AM - 1:30 PM

11:30 AM

Friends in High Places: Drinkers' Perceptions of Gender, Sobriety, and Relationships with Nondrinkers

Seth Behrends, University of Northern Iowa


Open Access Poster Presentation

11:30 AM - 1:30 PM

11:30 AM

Isolation Methods and DNA Analysis of Small Bacteriophages of Bacillus Anthracis

Brandon Hoskins, University of Northern Iowa


Poster Presentation (Electronic Copy Not Available)

11:30 AM - 1:30 PM

11:30 AM

Optimizing Sucrose Gradients for Small Bacteriophage Purification

Ryan Lode, University of Northern Iowa


Poster Presentation (Electronic Copy Not Available)

11:30 AM - 1:30 PM

11:30 AM

Perceptions of Use of Hearing Protection in High String Musicians

Alyssa Adamec, University of Northern Iowa


Poster Presentation (Electronic Copy Not Available)

11:30 AM - 1:30 PM

11:30 AM

Sara Judickas, University of Northern Iowa


Poster Presentation (Electronic Copy Not Available)

11:30 AM - 1:30 PM

11:30 AM

Religion in Ms. Marvel: How College Students Interpret Islam in the Life of Kamala Khan

Jasmine Hernandez, University of Northern Iowa


Poster Presentation (UNI Access Only)

11:30 AM - 1:30 PM

11:30 AM

Spin-gapless semiconductivity and half metallicity in Heusler alloys

Bradley A. Staten, University of Northern Iowa


Open Access Poster Presentation

11:30 AM - 1:30 PM

11:30 AM

Testosterone and Male Susceptibility in Leishmania infantum chagasi Infection

Elizabeth Turcotte, University of Northern Iowa


Poster Presentation (UNI Access Only)

11:30 AM - 1:30 PM

11:30 AM

The Consumption of Zombie Culture

Tony Ketelaar, University of Northern Iowa


Poster Presentation (Electronic Copy Not Available)

11:30 AM - 1:30 PM

11:30 AM

The Power of the Situation: Approach and Avoidance Tendencies in Romantic Relationships

Emily Wetherell, University of Northern Iowa


Open Access Poster Presentation

11:30 AM - 1:30 PM