Free! is a short lived literary-art magazine that was published by the University of Northern Iowa Board of Student Publications in 1973.

The UNI Social Research Center conducted a campus survey, A Study of Student's Attitudes Towards Free Magazine: Final Report, that involved approximately 10% of the student population. According to the Director of the of the Social Research Center, over eight hundred questionnaires were sent out and only 27% were returned. Based on the survey results, it was recommended to cut the Board of Student Publication's budget which resulted in the cancellation of the magazine.
Current Issue: Volume 1, Number 2 (1973) Free!
Front Matter
Articles
Fiction
Poetry
Art
Back Matter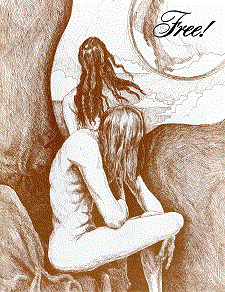 Editors
Editor

Alan Gold

Campus Editor

Robert Nathan Schlesinger

Fiction Editor

Thomas A. Linn

Poetry Editor

Vicki Hudspith

Photographer

Rich Swale

Designer

Kay Zellmer

Business Manager

Susan Seago

Advisor

John Nicol