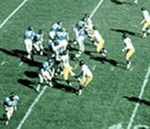 Title
Drake University, October 14, 1967
Files
Description
Drake University versus University of Northern Iowa, October 14, 1967
Archives Record Group Number
18/01/08
Archives Record Group Name
UNI Football Game Films, 1958-1975
Athletic Season
October 1967
Opponent
Drake University
Institution Team Name
University of Northern Iowa
Physical Media Label
1967-Oct-14-Drake-R1; 1967-Oct-14-Drake-R2
Archival Box Number
Box 17
Original Format
16mm open reel video tape
Digitization Vendor
Scenesavers
Preservation File Type
Matroska video file (MKV)
Preservation File Duration
0:9:14; 0:10:16
Access File Duration
0:9:14; 0:10:16
Disciplines
Sports Sciences
Collection
University Archives
Repository
Special Collections & University Archives, Rod Library, University of Northern Iowa
Publisher
UNI ScholarWorks, Rod Library, University of Northern Iowa
Copyright
©1967 University of Northern Iowa Athletic Communications
Creative Commons License


This work is licensed under a Creative Commons Attribution-Noncommercial 4.0 License
Restrictions
No restrictions. Open to noncommercial use.
Recommended Citation
University of Northern Iowa Athletic Communications, "Drake University, October 14, 1967" (1967). UNI Football Games Films, 1958-1975. 67.
https://scholarworks.uni.edu/football_films/67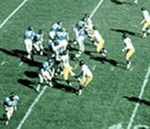 Project Title
UNI Football Game Films, 1958-1975
Project Description
In fall 2017, Rod Library Special Collections & University Archives successfully completed a PawPrint fundraising campaign with the UNI Foundation to digitize this collection of football films. Additional funding was used to digitize more films in spring 2018. With donor support, approximately two thirds of the collection has been digitized to date.
COinS