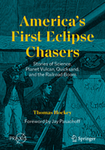 Title
America's First Eclipse Chasers: Stories of Science, Planet Vulcan, Quicksand, and the Railroad Boom
Description
In 2017, over 200 million Americans witnessed the spectacular total eclipse of the Sun, and the 2024 eclipse is expected to draw even larger crowds. In anticipation of this upcoming event, this book takes us back in history over 150 years, telling the story of the nation's first ever eclipse chasers.
Our tale follows the chaotic journeys of scientists and amateur astronomers as they trekked across the western United States to view the rare phenomenon of a total solar eclipse. The fascinating story centers on the expeditions of the 1869 total eclipse, which took place during the turbulent age of the chimerical Planet Vulcan and Civil War Reconstruction.
The protagonists―a motley crew featuring astronomical giants like Simon Newcomb and pioneering female astronomers like Maria Mitchell―were met with unanticipated dangers, mission-threatening accidents, and eccentric characters only the West could produce. Theirs is a story of astronomical proportions. Along the way, we will make several stops across the booming US railroad network, traveling from viewing sites as familiar as Des Moines, Iowa, to ones as distant and strange as newly acquired Alaska.
From equipment failures and botched preparations to quicksand and apocalyptic 'comets', welcome to the wild, western world of solar eclipses.
Keywords
Astronomy Observations; Astronomy Observations--History--Popular works; History; Popular works; Solar eclipses; Solar eclipses--History--Popular works;
Department
Department of Earth and Environmental Sciences
Disciplines
Astrophysics and Astronomy | Earth Sciences | Environmental Sciences
Object Description
xviii, 443 pages : illustrations (black and white, and colour) ; 24 cm.
Copyright
©2023 Thomas A. Hockey
File Format
application/pdf
Recommended Citation
Hockey, Thomas A., "America's First Eclipse Chasers: Stories of Science, Planet Vulcan, Quicksand, and the Railroad Boom" (2023). Faculty Book Gallery. 534.
https://scholarworks.uni.edu/facbook/534