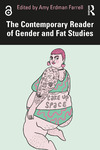 Description
The Contemporary Reader of Gender and Fat Studies is a key reference work in contemporary scholarship situated at the intersection between Gender and Fat Studies, charting the connections and tensions between these two fields.
Comprising over 20 chapters from a range of diverse and international contributors, the Reader is structured around the following key themes: theorizing gender and fat; narrating gender and fat; historicizing gender and fat; institutions and public policy; health and medicine; popular culture and media; and resistance. It is an intersectional collection, highlighting the ways that "gender" and "fat" always exist in connection with multiple other structures, forms of oppression, and identities, including race, ethnicity, sexualities, age, nationalities, disabilities, religion, and class.
The Contemporary Reader of Gender and Fat Studies is essential reading for scholars and advanced students in Gender Studies, Sexuality Studies, Sociology, Body Studies, Cultural Studies, Psychology, and Health.
Department
Department of Philosophy and World Religions
Copyright
©2023 selection and editorial matter, Amy Erdman Farrell; individual chapters, the contributors
Creative Commons License


This work is licensed under a Creative Commons Attribution-NonCommercial-No Derivative Works 4.0 International License.
File Format
application/pdf
Recommended Citation
Farrell, Amy Erdman and Hill, Susan E., "The Contemporary Reader of Gender and Fat Studies" (2023). Faculty Book Gallery. 533.
https://scholarworks.uni.edu/facbook/533