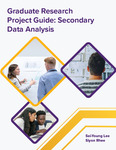 Files
Download Introduction (79 KB)
Download Chapter 1. Understanding the Structure of a Graduate Research Paper/Thesis (297 KB)
Download Chapter 2. How to Select a Research Topic for a Secondary Study (171 KB)
Download Chapter 3. How to Write the Introduction and Literature Review (425 KB)
Download Chapter 4. Understanding SPSS Data (1.7 MB)
Download Chapter 5. Data Management and Cleaning in SPSS (1.9 MB)
Download Chapter 6. Steps for Bivariate Analysis and Results (1.5 MB)
Download Chapter 7. Steps for Multivariate Analysis and Results (1.4 MB)
Download Chapter 8. Writing Methods, Results, and Discussion (138 KB)
Download Chapter 9. Essentials of APA Formatting (95 KB)
Download References (83 KB)
Download Appendix: APA 7 Student Sample Paper (645 KB)
Description
This Open Educational Resource (OER) book presents a step-by-step guide to help graduate students complete a Master's thesis or a graduate research project paper for those who conduct research using a secondary dataset. Almost all graduate programs require a Master's thesis/graduate research project as a graduate requirement. However, it is not easy for students to complete a thesis/research project since it requires a mastery of knowledge and skills through the integration of research methodology and statistics. Both research methodology and statistics are not easy subjects for students as well as researchers. Nonetheless, books or other published materials that combine both research methodology and statistics are rare mainly due to the magnitude of information and the difficulty of both subjects. As instructors who have supervised graduate students' research projects for over 20 years, we understood the struggles and challenges students often face in the process of completing their theses/projects.
Publisher
UNI ScholarWorks, Rod Library, University of Northern Iowa
Department
Department of Social Work
Object Description
1 PDF file
Copyright
©2023 Sei-Young Lee and Siyon Rhee
Creative Commons License


This work is licensed under a Creative Commons Attribution-NonCommercial-Share Alike 4.0 International License.
File Format
application/pdf
Recommended Citation
Lee, Sei-Young and Rhee, Siyon, "Graduate Research Project Guide: Secondary Data Analysis" (2023). Faculty Book Gallery. 532.
https://scholarworks.uni.edu/facbook/532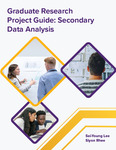 COinS