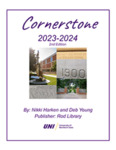 Files
Download Ebook Quick Links & QR Code (58 KB)
Download Introduction (89 KB)
Download Chapter 1. Failure is Not an Option (75 KB)
Download Chapter 2. Introduction to Oral Communication (735 KB)
Download Chapter 3. Strong Writers and Writing Don't Need Revision (96 KB)
Download Chapter 4. Perceptions and Readings on Argument (424 KB)
Download Chapter 5. Understanding Messages (219 KB)
Download Chapter 6. Audience, Culture, Communication (737 KB)
Download Chapter 7. Author and Workin' Languages (1.9 MB)
Download Chapter 8. Meaning (274 KB)
Download Chapter 9. Choosing a Topic (240 KB)
Download Chapter 10. Credibility and Ethics (742 KB)
Download Chapter 11. Outlining (805 KB)
Download Chapter 12. Organization (276 KB)
Download Chapter 13. Language (489 KB)
Download Chapter 14. Grammar, Rhetoric, and Style (176 KB)
Download Chapter 15. Listening (501 KB)
Download Chapter 16. Delivery and Informative Speaking (1.4 MB)
Download Chapter 17. Group Communication (352 KB)
Download Chapter 18. Writing with your Peers (149 KB)
Download Chapter 19. Leadership (507 KB)
Download Chapter 20. Interpersonal Communication (613 KB)
Download Chapter 21. Persuasion (244 KB)
Download Chapter 22. Analyzing Messages (875 KB)
Download Orientation Panther Guide 2023 (1.8 MB)
Description
The Cornerstone textbook is a free, custom textbook for you, published by Rod Library. It is a compilation of materials from more than six free, openly-licensed textbooks. Your Cornerstone instructors carefully selected the best of the best for your course!
Keywords
Communication--Textbooks; Public speaking--Textbooks; Written communication--Textbooks;
Publication Date
8-11-2023
Publisher
UNI ScholarWorks, Rod Library, University of Northern Iowa
Department
Department of Communication and Media
Department
Department of Languages and Literatures
Disciplines
Communication
Object Description
1 PDF file
Copyright
©2023 Nikki Harken, Deb Young, Sadé Barfield, and Scott Bredman. Various CC licenses for different parts of the book - See book for details.
Creative Commons License


This work is licensed under a Creative Commons Attribution-NonCommercial-Share Alike 4.0 International License.
File Format
application/pdf
Recommended Citation
Harken, Nikki; Young, Deb; Barfield, Sadé; and Bredman, Scott, "Cornerstone: 2023-2024 [2nd edition]" (2023). Faculty Book Gallery. 530.
https://scholarworks.uni.edu/facbook/530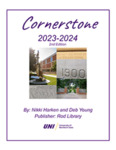 Included in
COinS