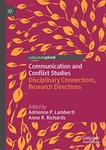 Title
Communication and Conflict Studies: Disciplinary Connections, Research Directions
Description
This book explores relations between communication and conflict. How one thinks about communication is demonstrated as shaping how one approaches conflict, and vice versa. Individuals engaged in conflict transformation apply the tools and strategies of their field while communicating to widely divergent audiences. Professional communicators not only create an infinite range of documents to help ensure that work is accomplished effectively, efficiently, and safely, but also address conflicts in the workplace and in the public sphere. Thoughtfully exploring connections between communication studies and conflict studies, this collection engages with research and practice on topics including the potential of social media during revolution, the role of gender during mediation, and the importance of critical genre usage during industrial crisis.
Keywords
Communication -- Social aspects. Peace. Communication and culture.
Publisher
Palgrave MacMillan
Department
Department of Languages and Literatures
Object Description
ix, 72 pages ; 21 cm.
Recommended Citation
Lamberti, Adrienne, "Communication and Conflict Studies: Disciplinary Connections, Research Directions" (2019). Faculty Book Gallery. 495.
https://scholarworks.uni.edu/facbook/495