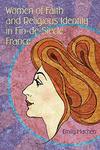 Title
Women of Faith and Religious Identity in Fin-de-Siècle France
Description
In this unique study, Machen explores a moment of intense religious upheaval and transformation in France between 1880 and 1920. In these pre–World War I years, a powerful Catholic community was pitted against equally powerful anticlerical members of the French Third Republic. During this time, women became increasingly involved in faith-based organizations, engaging in social and political action both to expand women's rights and to ensure that religion remained part of the public debate about France's identity. By representing their faith communities as modern, progressive, and in some cases democratic, women positioned themselves to help guide a modernizing France. Women of Catholic, Protestant, and Jewish faiths also reshaped the narrative of female power within the French nation and within their own religious groups. Their activism provided them with social, religious, and political influence unattainable through any other French institutions, enabling them in turn to push France toward becoming a more democratic, equitable society. Machen's timely examination of the critical role women played in shaping the nation's religious identity helps to illuminate contemporary issues in France as Muslim communities respond to civic pressure to secularize and as the country debates the role of women in Islam.
Keywords
Identification (Religion), Identiity (Psychology) -- Religious aspects, Women and religion -- France
Publisher
Syracuse University Press
Department
Department of History
Object Description
xi, 224 pages ; 24 cm.
Recommended Citation
Machen, Emily, "Women of Faith and Religious Identity in Fin-de-Siècle France" (2019). Faculty Book Gallery. 476.
https://scholarworks.uni.edu/facbook/476