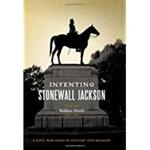 Title
Inventing Stonewall Jackson: A Civil War Hero in History and Memory
Description
Historians' attempts to understand legendary Confederate General Thomas J. "Stonewall" Jackson have been uneven at best and often contentious. As an occasionally eccentric and elusive college professor before the Civil War, Jackson died midway through the conflict, leaving behind no memoirs and relatively few surviving letters or documents. In Inventing Stonewall Jackson, Wallace Hettle offers an innovative and distinctive approach to interpreting the famed general by examining the lives and agendas of those authors who shaped our current understanding Stonewall.
Keywords
Jackson, Stonewall, -- 1824-1863, Generals -- United States -- Biography, Generals -- Confederate States of America -- Biography
Publisher
Louisiana State University Press
Department
Department of History
Object Description
xi, 200 p. ; 23 cm.
Recommended Citation
Hettle, Wallace, "Inventing Stonewall Jackson: A Civil War Hero in History and Memory" (2011). Faculty Book Gallery. 462.
https://scholarworks.uni.edu/facbook/462