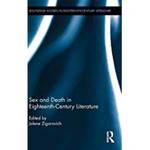 Title
Sex and Death in Eighteenth-Century Literature
Description
This book discusses sex and death in the eighteenth-century, an era that among other forms produced the Gothic novel, commencing the prolific examination of the century's shifting attitudes toward death and uncovering literary moments in which sexuality and death often conjoined. By bringing together various viewpoints and historical relations, the volume contributes to an emerging field of study and provides new perspectives on the ways in which the century approached an increasingly modern sense of sexuality and mortality. It not only provides part of the needed discussion of the relationship between sex, death, history, and eighteenth-century culture, but is a forum in which the ideas of several well-respected critics converge, producing a breadth of knowledge and a diversity of perspectives and methodologies previously unseen. As the contributors demonstrate, eighteenth-century anxieties over mortality, the body, the soul, and the corpse inspired many writers of the time to both implicitly and explicitly embed mortality and sexuality within their works. By depicting the necrophilic tendencies of libertines and rapacious villains, the fetishizing of death and mourning by virtuous heroines, or the fantasy of preserving the body, these authors demonstrate not only the tragic results of sexual play, but the persistent fantasy of necro-erotica. This book shows that within the eighteenth-century culture of profound modern change, underworkings of death and mourning are often eroticized; that sex is often equated with death (as punishment, or loss of the self); and that the sex-death dialectic lies at the discursive center of normative conceptions of gender, desire, and social power.
Keywords
English literature -- 18th century -- History and criticism, Sex in literature, Death in literature
Publisher
Routledge/Taylor & Francis Group
Department
Department of Languages and Literatures
Object Description
xii, 313 pages : illustrations ; 24 cm.
Recommended Citation
Zigarovich, Jolene, "Sex and Death in Eighteenth-Century Literature" (2013). Faculty Book Gallery. 454.
https://scholarworks.uni.edu/facbook/454