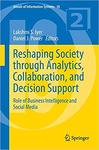 Title
Reshaping Society through Analytics, Collaboration, and Decision Support: Role of Business Intelligence and Social Media
Description
This volume explores emerging research and pedagogy in analytics, collaboration, and decision support with an emphasis on business intelligence and social media. In general, the chapters help understand where technology involvement in human decisions is headed. Reading the chapters can help understand the opportunities and threats associated with the use of information technology in decision making. Computing and information technologies are reshaping our global society, but they can potentially reshape it in negative as well as positive ways. Analytics, collaboration and computerized decision support are powerful decision aiding and decision making tools that have enormous potential to impact crisis decision making, regulation of financial systems, healthcare decision making and many more important decision domains.
Keywords
Economics, Operations research, Management information systems
Department
Department of Management
Object Description
ix, 269 pages : illustrations (some color) ; 23 cm.
Recommended Citation
Power, Daniel and Iyer, Lakshmi S., "Reshaping Society through Analytics, Collaboration, and Decision Support: Role of Business Intelligence and Social Media" (2015). Faculty Book Gallery. 449.
https://scholarworks.uni.edu/facbook/449