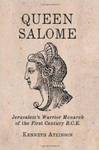 Title
Queen Salome: Jerusalem's Warrior Monarch of the First Century B.C.E.
Description
As the ruler of Judea from 76 to 67 B.C.E., Queen Salome Alexandra (ca. 141 b.c.e.-67 b.c.e.) appointed the kingdom's high priest, led its men in battle, subjugated neighboring kings, and stopped the religious violence that plagued her society. Presiding over Judea's greatest period of peace and prosperity, she shaped the Judaism of Jesus' day as well as our own. Virtually unknown today, Queen Salome remained so unique that historians have largely ignored her rather than try to explain the perplexing circumstances that brought her to power. This volume recreates Queen Salome's fascinating life and the time in which she lived--an age when women ruled the Middle East. -- Provided by publisher
Keywords
Salome Alexandra, -- 139 B.C.-67 B.C.; Jews -- Kings and rulers -- Biography; Palestine -- Biography;
Publisher
McFarland & Co.
Department
Department of History
Object Description
xi, 284 pages : ill. ; 23 cm
Recommended Citation
Atkinson, Kenneth, "Queen Salome: Jerusalem's Warrior Monarch of the First Century B.C.E." (2012). Faculty Book Gallery. 30.
https://scholarworks.uni.edu/facbook/30