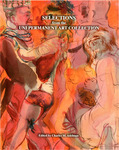 Description
The University of Northern Iowa (UNI), specifically the Department of Art and its Gallery of Art in the College of Humanities and Fine Arts, has been the home of a substantial collection of pieces of art for many years. Better known as the Permanent Collection, the Gallery of Art is the repository of paintings, etchings, drawings, lithographs and other artistic modi. The Collection holds objects donated by alumni, benefactors and faculty from the famous masterpiece to the not so well known. Still, all the pieces in the Collection, from Rembrandt to Rauschenber and from Dali to Grosz, are precious in their own right and of interest to the art historians and connoisseurs of art.
This collection may not be well known to outsiders. For many years, Darrell Taylor, Director of the UNI Art Gallery, and I have discussed ways to showcase the holdings. The occasional show in the UNI Gallery of Art and the display in some other venues considerably limit the exposure that the permanent collection should receive. Yet, the permanent collection remains a hidden treasure for the most part.
With this catalog we are taking the first step towards documenting and providing access to the UNI Permanent Collection for internal and external audiences. We are indebted to Professor Charles M. Adelman, art historian in the UNI Department of Art, for initiating and realizing the project. Professor Adelman's guidance and supervision of a number of students produced a catalog of selected pieces. It also achieved several essential objectives, for example,
-- It gave students an opportunity to research write and organize information on the artists and their works, in other words, it became a learning instrument;
-- Even though its scope was limited, it archived for the first time a number of objects in our Permanent Collection in the form of a catalog;
Understanding the intrinsic value of the project, the College of Humanities and Fine Arts and the Department of Art supported the project from its inception. I congratulate Professor Adelman and the students who were instrumental in creating this collection for their achievement. It will make the UNI Permanent Collection even more permanent.
R. K. Bubser, Dean, College of Humanities and Fine Arts, 13 July 2009
Keywords
University of Northern Iowa. Gallery of Art -- Catalogs; Art -- Iowa -- Cedar Falls -- Catalogs; Adelman, Charles Martin, 1942-
Publisher
Gallery of Art, University of Northern Iowa
Department
Department of Art
Department
Permanent Art Collection
Object Description
110 p. : ill. ; 29 cm
Digital Reproduction Information
Portable Document Format (PDF) file scanned from print book.
Copyright
©2010 Gallery of Art, University of Northern Iowa
Recommended Citation
Adelman, Charles M., "Selections from the UNI Permanent Art Collection" (2010). Faculty Book Gallery. 105.
https://scholarworks.uni.edu/facbook/105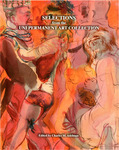 Included in
COinS