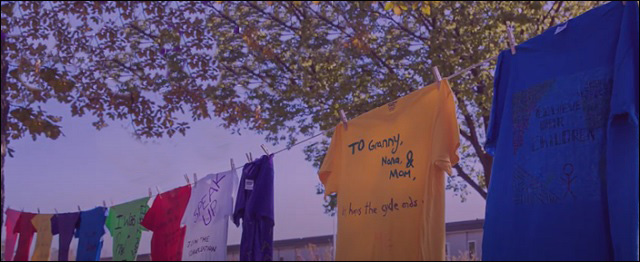 The Clothesline Project is organized by the Women's and Gender Studies Program at UNI in conjunction with Relationship Violence Awareness month in October to create awareness about the continual violence against women, children, men, the LGBTQ+ community, and other marginalized communities through the decoration (arts & writing positive words) of t-shirts.

The Clothesline Project is an international movement meant to protest violence against women. The project started in 1990 in Hyannis, Mass. when a member of the Cape Cod Women's Defense Agenda learned that while 58,000 U.S. soldiers died in Vietnam, 51,000 women were killed by domestic violence on the home front. These women were shocked to hear that so many women died at the hands of people they were meant to trust.

The Clothesline Project is a visual display of violence statistics that often go ignored. Each shirt is made by a survivor of violence or by someone who has lost a loved one to violence. The color of each shirt represents a different type of violence.
White represents women who died because of violence
Yellow represents survivors of domestic violence
Red, Pink, or Orange represent survivors of rape and sexual assault
Blue or Green represent survivors of childhood sexual abuse
Purple represents people attacked because of their sexual orientation
Grey or Brown represent survivors of emotional verbal or spiritual abuse
Black represents women attacked for political reasons
Sub-Collections. Photos for each year (sorted by columns in reverse chronological order) and for the T-Shirts category):
.
Printing is not supported at the primary Gallery Thumbnail page. Please first navigate to a specific Image before printing.