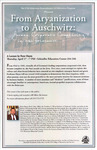 Keywords
Corporations--Germany--History--1933-1945--Posters; Holocaust, Jewish (1939-1945)--Posters;
Description
A poster announcing a lecture by Peter Hayes on the collaboration of German companies with the Nazi regime in its assault on Jews.
Event Sponsor 1
David W. Wilson Chair in Business Ethics
Event Sponsor 2
Max and Helen Guernsey Charitable Foundation
Event Sponsor 3
College of Humanities and Fine Arts, University of Northern Iowa
Information about Lecturer
Peter Hayes (Ph.D. Yale, 1982), the Theodore Z. Weiss Professor of Holocaust Studies, specializes in the history of Germany in the 20th century, particularly the Nazi period. He is the author or editor of seven books, including From Cooperation to Complicity: Degussa in the Third Reich (2004) and a prize-winning study of the IG Farben Corporation in the Nazi era. He is currently working on two other books: Profits and Persecution: Gennan Big Business and the Holocaust and The Failure of a Generation: German Elites and National Socialism. ln addition, Hayes is co-editing (with John K. Roth) The Oxford Handbook of Holocaust Studies and serving as the sole American member of the Independent Historians' Commission appointed by the German Foreign Minister in 2006 to investigate the history of the German diplomatic service during the Nazi regime and in its aftermath. A recipient of the Weinberg College of Arts & Sciences (Northwestern) Distinguished Teaching Award and the Northwestern Alumni Association's Excellence in Education Award, he has also held fellowships from the DAAD (German Academic Exchange Service), the American Council of Learned Societies, and the Harry Frank Guggenheim Foundation. He is a member of the Academic Board of the German Society for Business History and of the Academic Committee of the U.S. Holocaust Memorial Council.
Publication Date
4-17-2008
Publisher
Center for Holocaust and Genocide Education, University of Northern Iowa
Copyright
©2008 Holocaust Remembrance Education Program, University of Northern Iowa
File Format
application/pdf
Recommended Citation
University of Northern Iowa. Holocaust Remembrance and Education Program., "From Aryanization to Auschwitz: German Corporate Complicity in the Holocaust [poster]" (2008). Center for Holocaust and Genocide Education Documents. 58.
https://scholarworks.uni.edu/chge_documents/58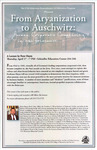 Included in
COinS