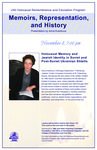 Keywords
Holocaust, Jewish (1939-1945)--Ukraine--Posters; Shtetls--Ukraine--Posters;
Description
A poster announcing a presentation by Ann Kushkova on the life and culture of shtetls and the impact on current residents in Ukraine.
Series
Memoirs, Representation, and History
Event Sponsor 1
Max and Helen Guernsey Charitable Foundation
Event Sponsor 2
Office of International Programs, University of Northern Iowa
Event Sponsor 3
College of Humanities and Fine Arts
Information about Lecturer
Anna Kushkova, Ethnology Department, "Petersburg Judaica" Center, European University at St. Petersburg, Russia, will discuss life and culture of the shtetls (Yiddish for "little towns") and their importance for the identity of Eastern European Jews. Using materials collected through field research conducted from 2004 through 2007 in three former shtetls in Ukraine, she will also explore how the current residents of these communities remember and document the Holocaust in narrative practices, and how their narratives are modified for different audiences—such as Jewish charity organizations, local authorities, and researchers—in the post-Soviet era.
Publication Date
11-8-2007
Publisher
Center for Holocaust and Genocide Education, University of Northern Iowa
Copyright
©2007 Holocaust Remembrance and Education Program, University of Northern Iowa
File Format
application/pdf
Recommended Citation
University of Northern Iowa. Holocaust Remembrance and Education Program., "Holocaust Memory and Jewish Identity in Soviet and Post-Soviet Ukrainian Shtetls [poster]" (2007). Center for Holocaust and Genocide Education Documents. 50.
https://scholarworks.uni.edu/chge_documents/50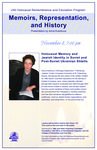 Included in
COinS