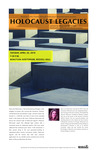 Keywords
Children of Holocaust survivors--Posters; Holocaust survivors--Posters;
Description
A poster announcing a lecture by Mona Sue Weissmark on the emotional legacies of the Holocaust.
Series
Norman Cohn Family Annual Holocaust Remembrance Lecture, 2010
Event Sponsor 1
Center for Holocaust and Genocide Education, University of Northern Iowa
Event Sponsor 2
College of Humanities and Fine Arts, University of Northern Iowa
Lecturer
Mona Sue Weissmark
Information about Lecturer
Mona Sue Weissmark received her Ph.D. from the University of Pennsylvania and completed postdoctoral training at Harvard University. She headed the Harvard Holocaust Conference Research project and was on the faculty of the Harvard University Medical School. She was associate professor and founding director of the Institute for Social Justice at Roosevelt University in Chicago. Weissmark was named visiting associate professor of psychology at Northwestern University as well as at Harvard University, where she now teaches the course Psychology of Diversity and conducts research on the psychology of injustice.
Publication Date
4-20-2010
Publisher
Center for Holocaust and Genocide Education, University of Northern Iowa
Copyright
©2010 Center for Holocaust and Genocide Education, University of Northern Iowa
File Format
application/pdf
Recommended Citation
University of Northern Iowa. Center for Holocaust and Genocide Education., "Holocaust Legacies: Lecture by Mona Sue Weissmark [poster]" (2010). Center for Holocaust and Genocide Education Documents. 46.
https://scholarworks.uni.edu/chge_documents/46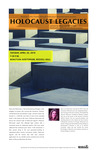 Included in
COinS