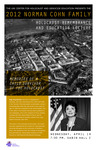 Keywords
Holocaust survivors--Posters; Auerbacher, Inge, 1934- --Posters;
Description
A poster announcing a presentation by Inge Auerbacher who was in a Nazi concentration camp from the ages of 7 to 10.
Series
Norman Cohn Family Holocaust Remembrance and Education Lecture, 2012
Event Sponsor 1
Center for Holocaust and Genocide Education, University of Northern Iowa
Information about Lecturer
Inge Auerbacher was born in Kippenheim, Germany. She was imprisoned from 1942 until 1945 in the Terezín (Theresienstadt) concentration camp in Czechoslovakia when she was seven to ten years of age. In 1946 she emigrated to the United States. She is the author of six books and has been published in nine languages. She is the recipient of many awards, including the Ellis Island Medal of Honor and an honorary Doctorate of Humane Letters from Long Island University, New York.
Publication Date
4-18-2012
Publisher
Center for Holocaust and Genocide Education, University of Northern Iowa
Copyright
©2012 Center for Holocaust and Genocide Education, University of Northern Iowa
File Format
application/pdf
Recommended Citation
University of Northern Iowa. Center for Holocaust and Genocide Education., "Memories of a Child Survivor of the Holocaust [poster]" (2012). Center for Holocaust and Genocide Education Documents. 34.
https://scholarworks.uni.edu/chge_documents/34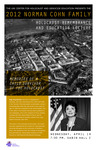 Included in
COinS