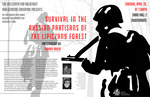 Keywords
Holocaust survivors--Posters; Holocaust, Jewish (1939-1945)--Posters; Brysk, Miriam M.--Posters;
Description
A poster announcing the presentation of Dr. Miriam Brysk of her experiences living in the Lida ghetto and the exhibition of her art in the Grout Museum of History and Science.
Series
Norman Cohn Family Holocaust Remembrance and Education Lecture, 2015
Event Sponsor 1
Center for Holocaust and Genocide Education, University of Northern Iowa
Information about Lecturer
Holocaust survivor and artist Miriam Brysk will share her story in a presentation, "Survival in the Russian Partisans of the Lipiczany Forest." Dr. Brysk, born in Warsaw, survived the Lida ghetto and the Partisans of Belorussia. She came to America in 1947 at age 12, with no previous schooling and unable to speak English. Her two dreams in life were to become a scientist and an artist. She obtained her Ph.D. in Biological Sciences from Columbia University and went on to become a scientist and medical school professor at the University of Texas. Since her retirement and return to Ann Arbor, she has become a digital artist and writer depicting the plight of the Jews during the Holocaust. She has created three major art exhibits: "In a Confined Silence", "Children of the Holocaust", and "Scroll of Remembrance"; she has had nearly 35 solo exhibits. Some of her work is part of the permanent collection of Yad Vashem. She has published two books: Amidst the Shadows of Trees: A Holocaust Child's Survival in the Partisans, an autobiography, and The Stones Weep: Teaching the Holocaust through a Survivor's Art, an art book with lesson plans by co-author Margaret Lincoln. She is completing her third book, Reflections on the Holocaust. Dr. Brysk will be introduced by Holocaust educator Margaret Lincoln, co-author of The Stones Weep.
Dr. Brysk's latest exhibit, "Scroll of Remembrance," along with selected other works of hers, will be on display at the Grout Museum of History & Science in Waterloo at the time of her visit.
Publication Date
4-20-2015
Publisher
Center for Holocaust and Genocide Education, University of Northern Iowa
Copyright
©2015 Center for Holocaust and Genocide Education, University of Northern Iowa
File Format
application/pdf
Recommended Citation
University of Northern Iowa. Center for Holocaust and Genocide Education., "Survival in the Russian Partisans of the Lipiczany Forest [poster]" (2015). Center for Holocaust and Genocide Education Documents. 18.
https://scholarworks.uni.edu/chge_documents/18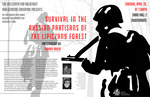 Included in
COinS