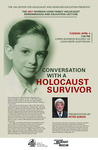 Keywords
Holocaust, Jewish (1939-1945)--Posters; Gorog, Peter--Posters; Holocaust survivors--Posters;
Description
A poster advertising a presentation by Peter Gorog on his experience growing up in Hungary during World War II.
Series
Norman Cohn Family Holocausts Remembrance and Education Lecture, 2017
Event Sponsor 1
Center for Holocaust and Genocide Education, University of Northern Iowa
Event Sponsor 2
United States Holocaust Memorial Museum
Information about Lecturer
Peter Gorog was born Péter Grünwald in Budapest, the capital of Hungary, on March 10, 1941. In 1942, Peter's father, Árpád Grünwald, was sent to Ukraine with a labor battalion. Árpád was declared dead by the Hungarian Ministry of Defense one year later.
German forces invaded Hungary in March 1944. Péter and his mother Olga first found refuge with a Christian friend. Just a few days later, a neighbor denounced Olga and Peter. Olga was jailed, but she escaped two days later, and the family moved into an apartment safeguarded by Swedish diplomat Raoul Wallenberg. In October 1944, threatened with a new round of terror, they fled to the Budapest ghetto, where they lived with Peter's grandparents, two aunts and a cousin in a one-bedroom apartment. They spent most of their time in the basement during the frequent Allied air raids. In January 1945, Budapest was liberated by the Soviet Army.
Peter grew up in Communist Hungary and changed his family name in 1962 from Grünwald to Gorog for fear of antisemitic discrimination. He earned a Master of Science degree in electrical engineering and later participated in the design of the first Hungarian-made computer. In 1980 he defected to the United States, where he worked on various NASA projects, including GOES, LANDSAT, the Hubble Space Telescope and the James Webb Space Telescope, until his retirement in 2014.
Publication Date
4-4-2017
Publisher
Center for Holocaust and Genocide Education, University of Northern Iowa
Copyright
©2017 Center for Holocaust and Genocide Education, University of Northern Iowa
File Format
application/pdf
Recommended Citation
University of Northern Iowa. Center for Holocaust and Genocide Education., "Conversation with a Holocaust Survivor [poster]" (2017). Center for Holocaust and Genocide Education Documents. 15.
https://scholarworks.uni.edu/chge_documents/15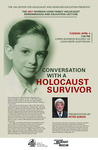 Included in
COinS