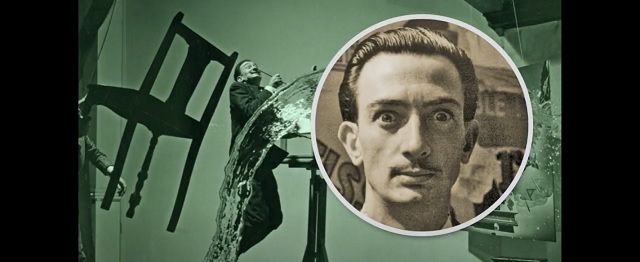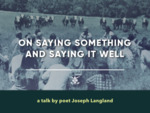 Keywords
Langland, Joseph--Interviews; Poets, American--Iowa--Interviews;
Description
In 1976, I was asked to design a paperbound edition of Joseph Langland's The Sacrifice Poems for the North American Review at the University of Northern Iowa. I was a young designer / teacher, and, after all these years, I remain very pleased with the cover, but I am no longer happy with the page layout.
Soon after I designed that book, I moved to a teaching position at another university, and moved elsewhere ten years after that. But I rejoined the UNI faculty in 1990, where I taught graphic design and illustration, including book design. More than a decade later, Joseph Langland retired from teaching and he too moved back to Iowa. In 2004, near the end of his life, Langland talked to a class of my design students at the University of Northern Iowa about the role of rhythmic sound and the music of the voice in the recitation of meaningful verse.
I think it would be fair to say that my students were astonished by Langland's presentation that day. They were surprised, even taken aback, because whenever Langland read his poems, it was more that he "performed" them—and in fact he often "sang" the lines. The session was filmed, and haas recently been edited.
Joseph Langland also talked about his past, not knowing that his life would end a few years later. He recalled how he was drawn to literature at a very young age, and thereafter used poetry as a way to understand his life, such as growing up on a family farm, his rich Norwegian heritage, the death of his younger brother, and his lingering memories as an officer in the US Army infantry in Europe during World War II.
His talk took place on Veterans Day, on November 11, 2004.
—Roy R. Behrens (2022)
Publisher
UNI ScholarWorks, Rod Library, University of Northern Iowa
Recommended Citation
Behrens, Roy R., "On Saying Something and Saying It Well: A Talk by Poet Joseph Langland" (2022). Behrens Video Archive. 14.
https://scholarworks.uni.edu/behrens_videos/14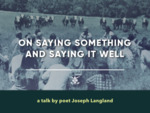 COinS