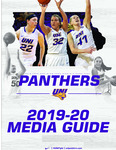 Keywords
College sports--Iowa--Cedar Falls; University of Northern Iowa--Sports; College athletes--Iowa--Cedar Falls; Basketball--Iowa--Cedar Falls; University of Northern Iowa--Basketball;
Description
Contents:
--INTRODUCTION
--GENERAL INFORMATION/Table of Contents
--2019-20 SCHEDULE
--2019-20 ROSTER
--SEASON RECAP/PREVIEW
--COACHES
--HEAD COACH TANYA WARREN
--ASSOCIATE HEAD COACH BRAD NELSON
--ASSISTANT COACHES STEVEN FENNELLY/KK ARMSTRONG
--THE PANTHERS
--SENIORS (Rose Simon-Ressler, Heidi Hillyard, Abby Gerrits, Kristina Cavey)
--JUNIORS (Karli Rucker, Nicole Kroeger, Bre Gunnels, Megan Maahs)
--SOPHOMORES (Kam Finley, Cynthia Wolf)
--FRESHMEN (Cailyn Morgan, Sara McCullough, Kaitlin Winston, Kiana Barney)
--THE OPPONENTS
--2019-20 NON-CONFERENCE OPPONENTS
--2019-20 MISSOURI VALLEY CONFERENCE OPPONENTS
--2018-19 BY THE NUMBERS
--OVERALL/MVC STATISTICS
--2018-19 STATS BREAKDOWN
--2018-19 RETURNERS GAME-BY-GAME
--2018-19 BOX SCORES
--PANTHER HISTORY
--YEAR-BY-YEAR RESULTS
--ALL-TIME RESULTS
--INDIVIDUAL CAREER LEADERS
--INDIVIDUAL SEASON LEADERS
--TEAM SEASON LEADERS
--MISCELLANEOUS RECORDS/AWARDS
Disciplines
Higher Education
Publisher
Athletics, University of Northern Iowa
Copyright
©2019 Athletics, University of Northern Iowa
File Format
application/pdf
Recommended Citation
University of Northern Iowa, "2019-2020 Northern Iowa Women's Basketball" (2019). Athletics Media Guides. 390.
https://scholarworks.uni.edu/amg/390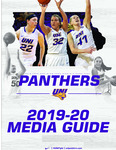 The materials in this collection are available in the UNI University Archives.
Included in
COinS