Title
Preview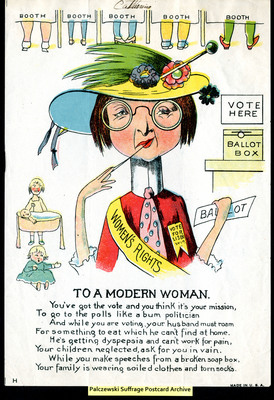 Rod Library Access Number
431
Description
To a Modern Woman
You've got the vote and you think it's your mission,
To go to the polls like a bum politician,
An while you are voting, your husband must roam
For something to eat which he cant' find at home.
He's getting dyspepsia and can't work for pain,
Your children neglected, ask for you in vain.
While you make speeches from a broken soap box,
Your family is wearing soiled clothes and torn socks.
Disciplines
Digital Humanities | Gender, Race, Sexuality, and Ethnicity in Communication | History | History of Gender | Speech and Rhetorical Studies | Women's History
Theme
Anti-suffrage; women;
Ordering Information
Ordering Information: Contact Catherine Palczewski at catherine.palczewski@uni.edu for permission requests and to order high resolution digital copies. Fees will be attached if the image is intended for commercial use.
Rights Advisory
Original print piece is in the public domain; U.S. and International copyright laws protect this digital object. Commercial use of this digital object not permitted without prior permission of copyright holder.
Creative Commons License


This work is licensed under a Creative Commons Attribution-NonCommercial 4.0 International License
Keywords
Women--Suffrage;
COinS