Preview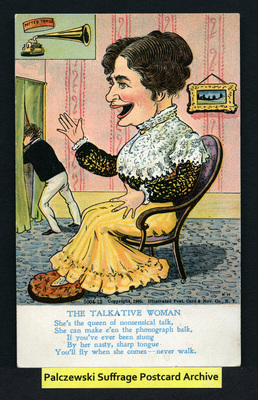 Rod Library Access Number
189.1a
Publisher
Illustrated Postal Card & Novelty Co.
City of Publication
New York
State of Publication
New York
Country of Publication
United States
Postmark City
Mount Pleasant, IA
Destination City
New London, IA
Description
THE TALKATIVE WOMAN She's the queen of nonsensical talk, She can make e'en the phonograph balk, If you've ever been stung By her nasty, sharp tongue You'll fly when she comes - never walk.
Disciplines
Digital Humanities | Gender, Race, Sexuality, and Ethnicity in Communication | History | History of Gender | Speech and Rhetorical Studies | Women's History
Ordering Information
Ordering Information: Contact Catherine Palczewski at catherine.palczewski@uni.edu for permission requests and to order high resolution digital copies. Fees will be attached if the image is intended for commercial use.
Copyright
© 1905 Illustrated Post. Card & Nov. Co.
Rights Advisory
Original print postcard is in the public domain; U.S. and International copyright laws protect this digital object. Commercial use of this digital object not permitted without prior permission of copyright holder.
Creative Commons License


This work is licensed under a Creative Commons Attribution-NonCommercial 4.0 International License
Keywords
Women--Suffrage;
COinS