Preview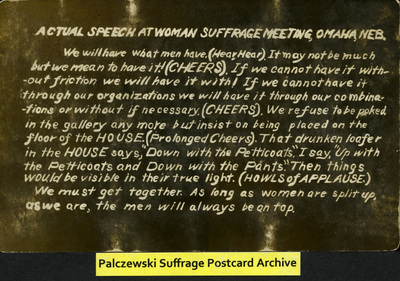 Rod Library Access Number
243.2a
Description
Actual Speech at Woman Suffrage Meeting, Omaha, Neb. We will have what men have (Hear! Hear!). It may not be much but we mean to have it! (Cheers.) If we cannot have it without friction we will have it with! If we cannot have it through our organizations we will have it through our combinations or without if necessary (cheers).We refuse to be poked in the gallery any more, but insist on being placed on the floor of the HOUSE. (Prolonged cheers.) That drunken loafer in the HOUSE says, "Down with the Petticoats!" I say, "Up with the Petticoats and Down with the Pants!" Then things would be visible in their true light. (Howls of Applause). We must get together. As long as women are split up, as we are, the men will always be on top.
Disciplines
Digital Humanities | Gender, Race, Sexuality, and Ethnicity in Communication | History | History of Gender | Speech and Rhetorical Studies | Women's History
Ordering Information
Ordering Information: Contact Catherine Palczewski at catherine.palczewski@uni.edu for permission requests and to order high resolution digital copies. Fees will be attached if the image is intended for commercial use.
Rights Advisory
Original print postcard is in the public domain; U.S. and International copyright laws protect this digital object. Commercial use of this digital object not permitted without prior permission of copyright holder.
Creative Commons License


This work is licensed under a Creative Commons Attribution-NonCommercial 4.0 International License
Keywords
Women--Suffrage;
COinS