Preview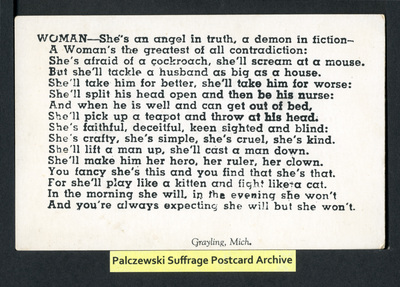 Rod Library Access Number
410a
Publisher
Charles J. Herbert
City of Publication
Traverse City
State of Publication
Michigan
Country of Publication
United States
Description
WOMAN - She's an angel in truth, a demon in fiction - A Woman's the greatest of all contradition: She's afraid of a cockroach, she'll scream at a mouse. But she'll tackle a husband as big as a house. She'll take him for better, she'll take him for worse. She'll split his head open and then be his nurse: And when he is well and can get out of bed, She'll pick up a teapot and throw at his head. She's failthful, deceitful, keen sighted and blind: She's crafty, she's simple, she's cruel, she's kind. She'll lift a man up, she'll cast a man down. She'll make him her hero, her ruler her down. You fancy she's this and you find that she's that. For she'll play like a kitten and fight like a cat. In the morning she will, in the evening she won't And you're always expecting she will but she won't.
Disciplines
Digital Humanities | Gender, Race, Sexuality, and Ethnicity in Communication | History | History of Gender | Speech and Rhetorical Studies | Women's History
Ordering Information
Ordering Information: Contact Catherine Palczewski at catherine.palczewski@uni.edu for permission requests and to order high resolution digital copies. Fees will be attached if the image is intended for commercial use.
Copyright
©Charles J. Herbert [Original pre-1923 postcard]
Keywords
Women--Suffrage;
COinS