Preview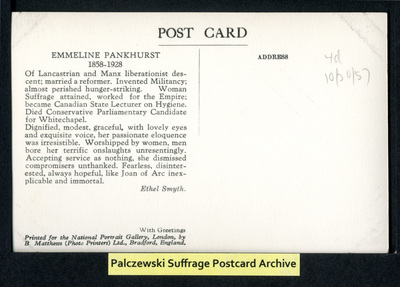 Rod Library Access Number
346b
Publisher
National Portrait Gallery
City of Publication
London
Country of Publication
England
Description
Emmeline Pankhurst Painting of 1927 by Georgina Brackenbury Verso: Emmeline Pankhurst 1858-1928 Of Lancastrian and Marx liberatiion descent; married a reformer. Invented Militancy; almost perished hunger-striking. Woman Suffrage attained, worked for the Empire; became Canadian State Lecturer of Hygiene; Died Conservative Parliamentary Candidate for Whitechapel. Dignified, modest, graceful, with lovely eyes and exquisite voice, her passionate eloquence was irresistable. Worshipped by women, men bore her terrific onslaughts unresentingly. Accepting service as nothing, she dismissed compromisers unthanked. Fearless, disinterested, always hopeful, like Joan of Arc inexplicable and immortal. Ethyl Smith.
Disciplines
Digital Humanities | Gender, Race, Sexuality, and Ethnicity in Communication | History | History of Gender | Speech and Rhetorical Studies | Women's History
Theme
Pro-suffrage; Suffragists; Women;
Ordering Information
Ordering Information: Contact Catherine Palczewski at catherine.palczewski@uni.edu for permission requests and to order high resolution digital copies. Fees will be attached if the image is intended for commercial use.
Copyright
©National Portrait Gallery
Keywords
Women--Suffrage;
COinS