Preview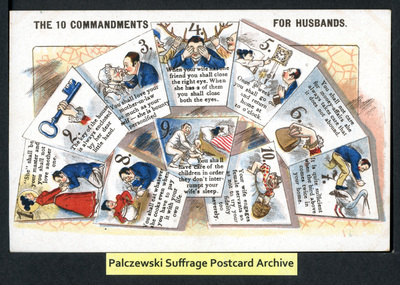 Rod Library Access Number
300a
Country of Publication
United States
Description
The 10 Commandments for Husbands 1. She shall be your master and you shall not love another one. 2. The Key of the house is always enclosed by her dear little hand. 3. You shall love your mother-in-law as much as yourself - she is bounty personified. 4. If your wife has one friend you shall close one eye. When she has 2 of them you shall close both eyes. 5. Once a week you shall go out and return at 10 o'clock. 6. You shall not care for money-affairs she always take care that it does not abound. 7. It is quite suffiient when the bird above comes twice to your home. 8. You shall eat whatever she cooks even if you have to pay it with your own life. 9. You shall have care of the children in order they don't interrumpt (sic) your wife's sleep. 10. Your wife engages female servants so as not to try your fidelity too severely.
Disciplines
Digital Humanities | Gender, Race, Sexuality, and Ethnicity in Communication | History | History of Gender | Speech and Rhetorical Studies | Women's History
Theme
Men; Women; Women gain-men lose
Ordering Information
Ordering Information: Contact Catherine Palczewski at catherine.palczewski@uni.edu for permission requests and to order high resolution digital copies. Fees will be attached if the image is intended for commercial use.
Keywords
Women--Suffrage;
COinS