Preview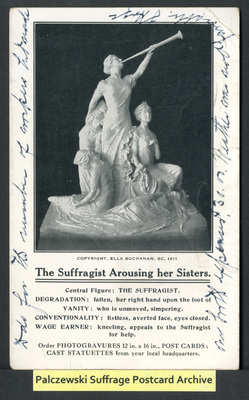 Rod Library Access Number
245a
Publisher
The Elman Art Company
City of Publication
New York
State of Publication
New York
Country of Publication
United States
Postmark City
Wheeling, West Virginia
Destination City
Parkersburg, West Virginia
Description
Copyright, Ella Buchanan, SC. 1911 The Suffragist Arousing her Sisters. Central Figure: THE SUFFRAGIST DEGRADATION: fallen, her right hand upon the foot of VANITY: who is unmoved, simpering. CONVENTIONALITY: listless, averted face, eyes closed. WAGE EARNER: kneeling, appeals to the Suffragist for help. Order PHOTOGRAVURES 12 in. x 16 in., POST CARDS; CAST STATUETTES from your local headquarters.
Disciplines
Digital Humanities | Gender, Race, Sexuality, and Ethnicity in Communication | History | History of Gender | Speech and Rhetorical Studies | Women's History
Theme
Pro-suffrage; Suffragists; Women;
Ordering Information
Ordering Information: Contact Catherine Palczewski at catherine.palczewski@uni.edu for permission requests and to order high resolution digital copies. Fees will be attached if the image is intended for commercial use.
Copyright
©1911 Ella Buchanan [Original pre-1923 postcard]
Rights Advisory
Original print postcard is in the public domain; U.S. and International copyright laws protect this digital object. Commercial use of this digital object not permitted without prior permission of copyright holder.
Creative Commons License


This work is licensed under a Creative Commons Attribution-NonCommercial 4.0 International License
Keywords
Women--Suffrage;
COinS