Preview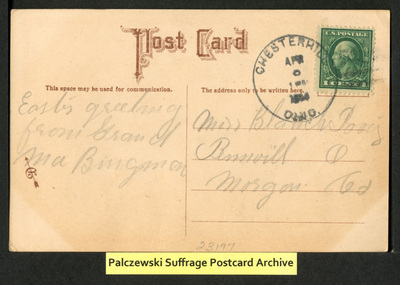 Rod Library Access Number
117b
Date of Publication
1-1-1909
Publisher
Dunston-Weiler Lithograph Company
City of Publication
New York
State of Publication
New York
Country of Publication
United States
Postmark City
Chesterhill, Ohio
Description
Vote for Bill Sykes for Keeper of the Zoo. Don't vote for Dr. McMoney for Treasurer vote for his wife she has been his treasure for 40 yrs. Vote for Susie Peach for Alderwoman 5th Ward. Vote for Miss Spinster Justice Childrens' Court. Before voting see Ann Howolde Boodle-Holder of the Committee for the Emancipation of the Weaker Sex from the Other Sex. Jane Dikker for Governess of the Blue-Grass-Widow State. Ladies prove that you are men.
Disciplines
Digital Humanities | Gender, Race, Sexuality, and Ethnicity in Communication | History | History of Gender | Speech and Rhetorical Studies | Women's History
Theme
Anti-suffrage; Commercial publishers; Dunston Weiler Lithograph Company; Women;
Ordering Information
Ordering Information: Contact Catherine Palczewski at catherine.palczewski@uni.edu for permission requests and to order high resolution digital copies. Fees will be attached if the image is intended for commercial use.
Copyright
©1909 Dunston Weiler Lithograph Company [Original pre-1923 postcard]
Rights Advisory
Original print postcard is in the public domain; U.S. and International copyright laws protect this digital object. Commercial use of this digital object not permitted without prior permission of copyright holder.
Creative Commons License

This work is licensed under a Creative Commons Attribution-Noncommercial 4.0 License
Keywords
Women--Suffrage;
COinS