Preview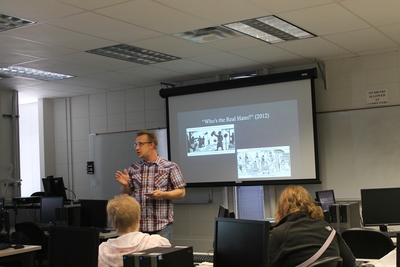 Description
Presenter Brandon Dean explores the controversial worldview contained within the works of Jack T. Chick and his associates. Labeled by some critics as "hate literature," the Christian cartoon tracts of Chick take aim at Roman Catholicism, Islam, homosexuality, and a variety of other targets. Through contextualizing the tracts within a larger American Evangelical Christian history and looking at other comics with religious content that garnered controversy for very different reasons (such as Garth Ennis and Steve Dillon's Preacher and Naif al-Mutawa's The 99), Dean shows the complexities of the religiously motivated offensiveness of one of the twentieth-century's most published comics creators.
Copyright
©2015 Rod Library, University of Northern Iowa
Creative Commons License

This work is licensed under a Creative Commons Attribution 4.0 License.
Keywords
RodCon (2015 : Rod Library)--Pictorial works;
COinS