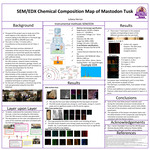 Keywords
Mastodons--Iowa--Franklin County; Fossils--Collection and preservation--Iowa;
Description
The goal of this project was to study one of the rarest objects in the collection of the UNI museum dating to the Aftonian or Yarmouth age (around 120,000 to 200,000 years old).
The tusk is 11 feet, 7.5 inches with a circumference at the proximal end of 2 feet, 2 inches.
There have been previous attempts of restoration of this tusk but there are not specific procedures on record that specify the materials or methods used during the restoration attempts with sufficient detail.
With the support of the Carver Grant awarded to the UNI museum, research teams containing students from the chemistry, geology, history, art and anthropology departments will contribute to the study and preparation for the final restoration of the tusk.
The first phase of the project consists in the determination of the materials used to in the past restorations attempts. There are a variety of subprojects using different instruments and analytical techniques to achieve this goal.
For this part of the project, a chemical map of the tusk was generated using the Evex Mini SEM/EDX.
Faculty Advisor
Joshua A. Sebree
Department
Department of Chemistry and Biochemistry
Publisher
Rod Library, University of Northern Iowa
Copyright
©2017 Juliana Herran
File Format
application/pdf
Recommended Citation
Herran, Juliana, "SEM/EDX Chemical Composition Map of Mastodon Tusk" (2017). Mastodon Tusk Project Posters. 3.
https://scholarworks.uni.edu/mastodon_posters/3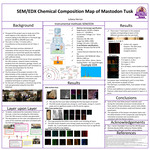 Included in
COinS