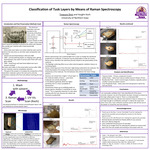 Keywords
Mastodons--Iowa--Franklin County; Fossils--Collection and preservation--Iowa;
Description
The American Mastodon tusk was donated to the University of Northern Iowa, and Dr. J. Cable took the lead on preserving it for museum display at UNI. Dr. Cable's notes stated that it would be possible to preserve the entire tusk, because the outside was "covered with a hard enamel-like substance". Some notes were taken as to what materials were used to preserve the tusk early on, but their exact composition was not noted.
• Glazed and varnished between 1933 and 1960
• 1960 – canned patching plaster on chipping areas, glazing liquid (brown), two coats of varnish (satin finish with some gloss added)
• 1966 – wood brace and steel band added near tip to prevent cracking
No notes were taken on the preservation process after 1966, so the materials used are completely unknown. The goal of this project is to analyze the composition of the restoration materials used on the tusk and to strip the restoration materials off of the tusk without harming the tusk itself.
Faculty Advisor
Joshua A. Sebree
Department
Department of Chemistry and Biochemistry
Publisher
Rod Library, University of Northern Iowa
Copyright
©2017 Treasure Divis and Vaughn Koch
File Format
application/pdf
Recommended Citation
Divis, Treasure and Koch, Vaughn, "Classification of Tusk Layers by Means of Raman Spectroscopy" (2017). Mastodon Tusk Project Posters. 2.
https://scholarworks.uni.edu/mastodon_posters/2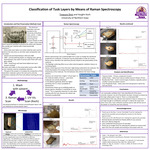 Included in
COinS